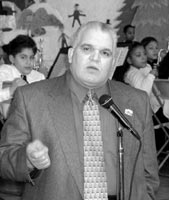 "Dedicated" – 1. devoted to a cause, ideal or purpose; 2. Victor Rodriguez, Supt. of District 19 in Brooklyn
by Joan Baum, Ph.D.
A modest, soft-spoken man, whose concern for the 30 schools in his charge comes across as an unusual and admirable mix of appreciation for basic skills and a genuine love of doing all he can for his district, he is, he says with a slight chuckle, "home grown." He went to P.S. 182, Thomas Jefferson High School, and eventually became an assistant principal for 6 years in an elementary school, followed by 8 in a middle school.
He has been Superintendent for two and a half years. Motivated early on to be a physical education teacher, he credits one Moe Finkelstein at Jefferson High who taught him the value of being on a team because "you can coach kids, teach them team building skills," which can carry over to affect discipline, sense of community and overall achievement. He soon saw that what was needed were reading skills, and so he became a reading specialist for his Masters degree.
Though math is much on the mind of educators these days, Superintendent Rodriguez is ever watchful over literacy needs as well. An immigrant from Puerto Rico, when he was three, the Superintendent is a firm believer in English immersion programs. He is also an advocate of phonics, and notes that he incorporated phonics instruction into District 19 schools long before the idea became pervasively attractive. His district is mainly composed of speakers of languages other than English— Spanish, Creole, and more recently Urdu. He volunteers that his schools are in a "low-performing district, and he does not underestimate the challenge before him to "make people" out of the youngsters who come in with numerous disadvantages, but he takes heart that in his brief tenure he has already brought about significant change.
He notes that Everyday Math, the Chancellor's latest policy move, has been in District 19 schools for three years, and tests show that his students have made a 4% gain in math at all grade levels except 4th. When he started as Superintendent, he recalls, there were seven different math programs going on. He points out, however, that not all the teachers in his district know how to teach Everyday Math, a cyclical program, requiring repeated reinforcement, and so he has instituted a "massive professional development" program. Now, on the last school days in June, he holds "training days" not only for math teachers but also for administrators, paraprofessionals, and staff developers. If teachers do not know the content of this standardized math curriculum, after two intensive days they certainly will. He also put in place a concept he borrowed from Pittsburgh schools—"walk throughs," which involve small teams of teachers and administrators walking through other schools and noting what works and what needs improvement.
Superintendent Rodriguez notes initiatives he has started on his own, such as the "reteaching period," where youngsters get skills reinforcement at the end of their last class, and also a Saturday Program where, with the enticements of breakfast and lunch, youngsters can come in for two hours of math and two hours of literacy instruction. Effective? Well, he's got only three schools left on the low-performing schools list. He also points with quiet pride to parent forums where principals meet with parents at last three times a year to review literacy and math progress and discuss conflict resolution. District 19 was also the first to participate in Learning Leaders, now running in 28 out of his 30 schools. He is also proud of "pacing calendars" in every school—curricular guides for unit instruction. "We must be doing something right," he proffers, the scores are looking better.
Finally the Superintendent notes restructuring efforts, which have been dramatic in his district. He's replaced 22 of 30 principals since he started. He's also moved to recruit new teachers. Approximately 50 % have been in his district for fewer than three years, many coming from partnerships with Brooklyn College and Bank Street College. Restructuring has also included his breaking up big middle schools of 1,500 students into smaller academies—so that students can pursue interests in, say, the sciences or the arts.
And what does this busy administrator do in his so-called free time? Spend it with his family, is the reply, a not unexpected choice for one who regards his professional life as a kind of family affair. #