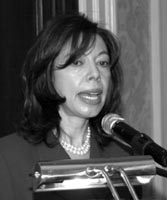 Dr. Margaret Cuomo Maier & Matilda Cuomo Introduce Italian Language at Concordia Language Villages
by Pola Rosen, Ed.D.
What do Chelsea Clinton, the Kennedy grandchildren and the Cuomo grandchildren have in common? They attended an internationally recognized and respected world language and culture education program offered by Concordia Language Villages, a program at Concordia College in Minnesota, directed by Christine Schulze. Lago del Bosco is the newest program that will offer Italian language and culture in addition to the other 12 language programs already extant.
Four of the leading Italian-American organizations in the country were present at a news conference recently at the Columbus Citizens Foundation in New York City, to endorse the creation of Lago del Bosco, opening in the summer of 2003. Dr. Margaret Cuomo Maier, the President of Lago del Bosco, and her mother, former New York State First Lady Matilda Raffa Cuomo, spoke passionately about their efforts to create, fund and finally see their hard work come to fruition.
The participating organizations are the Columbus Citizens Foundation (Lawrence Auriana, President); the National Italian American Foundation (NIAF-Frank Guarini, Chairman); the Order of Sons of Italy in America (OSIA-Joseph Sciame, National First Vice-President); and UNICO National (John Alati, President).
The new Italian Language Village has also received the endorsement of the Embassy of Italy and the American Associ-ation of Teachers of Italian (AATI). Its mission is to prepare young people for responsible citizenship in our global community. Established in 1961, the Language Villages annually serves 9,500 young people, aged 7-18, from all 50 of the United States and 25 other countries.
Concordia Language Villages has long been a model of innovative programming in immersion education and offers one-, two- and four-week summer sessions—the last being the equivalent of a full year of high school language instruction in 13 languages: Chinese, Danish, English, Finnish, French, German, Italian, Japanese, Korean, Norwegian, Russian, Spanish and Swedish.
In addition to summer programming, year-round sessions welcome school language groups, adults and Elderhostelers, and language teachers pursuing graduate-level credit. Concordia Language Villages is accredited by the North Central Association Commission on Accreditation and School Improvement and the American Camping Association.
?oncordia Language Villages has constructed year-round educational facilities, unparalleled for immersion instruction and architectural authenticity, on 830 wooded acres of lakeshore property in northern Minnesota. The Language Villages maintains additional sites throughout Minnesota, in Georgia and seven countries to accommodate the growth of its world language and culture immersion programs.#