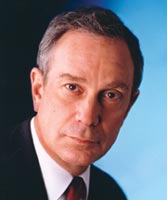 New York City Is Still America's Safest Big City
By Mayor Michael R. Bloomberg
Public safety is City government's most basic responsibility. And despite unavoidable budget cuts, during 2002 we've made New York an even safer place, by continuing dramatic reductions in crime, improving protection against fires, and making our streets safer for motorists and pedestrians.
As we end the year, reported crimes in our city are at their lowest point since 1963—back when, as NYPD Commissioner Ray Kelly has pointed out, "Mickey Mantle played for the Yankees and Hershey bars cost a nickel." Major crimes have declined by nearly 6% this year. Homicides are down by nearly 12% and felony assaults and auto thefts have experienced double-digit drops as well. At the same time, the NYPD has also remained vigilant in protecting against the quality of life infractions that undermine neighborhoods and create an environment in which more serious crimes flourish.
These successes contrast with rising crime rates in many other cities. The most recent FBI report on crime nationwide, released last week, ranked New York's serious crime rate 197th of the 216 U.S. cities with a population of at least 100,000. That puts us right between Provo, Utah, and Rancho Cucamonga, California.
Our record on fire safety is also impressive. This year, New York is on course to have the fewest deaths due to fire since 1921. Structural fires are down 5%, and non-structural fires are down 16%. In 2002, the Fire Department has shaved three seconds off the average time it takes to respond to fires—precious seconds in the FDNY's courageous battle to save lives and protect property.
Thanks to intersection and traffic management improvements by our Department of Transportation, city streets and roadways have also become safer. There have been roughly 8% fewer traffic fatalities in New York this year compared to last. Better pedestrian safety is a big part of this brighter picture. One dramatic example: During the five years before this one, an annual average of eight pedestrians died along Queens Boulevard. So far this year, there's been only one such fatality there—one too many, but still, a heartening advance.
Businesses aren't judged by how much money they spend, but by the quality of the services they provide. The same standard should be applied to City government. All the life-saving progress I've just described has been accomplished through efficiency: getting better results with fewer resources. In the area of public safety, we've shown during 2002 that City government can not only do more with less-we can do quite well with less.
And that's good news for all New Yorkers.#