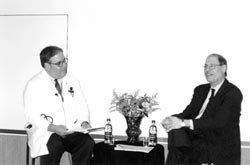 Was Kennedy Too Sick to be President?
Humanities and Science Mesh in Program at Weill Cornell Medical College.
by Alexandra Shimo-Barry
In a lecture at Weill Cornell Medical College, Boston University historian Robert Dallek discussed Kennedy's secret life of sickness and medication. Dallek was granted exclusive access to Kennedy's private papers for the years 1955 to 1963, including his X-rays and prescription drug records. What he found radically changed how we understand the popular, historic President. Kennedy was very ill for most of his 46 years. He presented a façade of good health to give the public what he thought they wanted—an icon of athleticism and valor.
The future president was hospitalized when he was 17 years old with spasms and diarrhea, and diagnosed with irritable bowel syndrome. Kennedy's childhood letters show he made light of his ordeal, Dallek said.
"They came in and rammed this big tube up my ass," Kennedy wrote in letters to his friends. "My rectum and I are not on speaking terms."
Kennedy's intestinal problems were treated with steroids for all his adult life. The drugs weakened his spine and probably caused the osteoporosis that limited his movement, Dallek said. At times, Kennedy would resort to crutches, and he often took injections of procaine—a form of Novocain—in his back. "He was a walking medicine cabinet," Dallek said.
Between 1955–1957, Kennedy was hospitalized nine times. He suffered from lumbar pain, food allergies, gonorrhea, and took a cocktail of drugs just to get by, including sleeping pills, tranquilizers, antihistamines, and steroids. During the major crises of his presidency—the Bay of Pigs and the Cuban Missile Crisis—he took higher doses of cortisone and salt to help him cope with the stress. "Without the medications, he couldn't function as a president," Dallek said. "They kept him afloat."
Kennedy was terrified the public would find out about his ill health, Dallek said. He hid his persistent pain and presented an image of vigor and athleticism to the press. Kennedy be-lieved the public wanted an image of perfection, Dallek said, and he did his best to comply. He played tennis, went sailing and roughhoused pictur-esquely with his children, while heavily drugged up for his extreme pain.
In his book, An Unfinished Life: John F. Kennedy, 1917–1963, Dallek asks whether Kennedy was right to hide his terrible health and cocktail of drugs. On one hand, Dallek points out, our golden President spent his life lying to the public he was elected to serve. On the other, Kennedy believed public knowledge of his terrible health and medications would have made him unelectable. History shows we don't elect Presidents who display signs of weakness, Dallek said. Yet Kennedy was a very effective President, and he led the country through the threat of nuclear war.#