Leaders in Our Community
by Mark Herz
Education Update chose four among the myriad illustrious individuals serving as role models and guiding the way for more equality in our society. The Michigan case underscores the importance of core values still not achieved. Three of our four profiles are graduates of Historically Black Colleges and Universities (HBCU). We asked them to include the influence their alma maters had in their lives.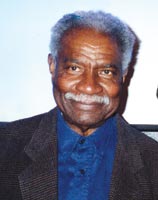 Ossie Davis
After graduating in 1934 from Center High School in Waycross, Georgia, Ossie Davis had scholarships to what are now Savannah State University and Tuskegee University. But the scholarship money was not enough—Davis was "stone broke." He stayed out of school for a year and saved up. To save money while in school, Davis would head north to live with two Aunts in Washington, D.C. while attending Howard University there. He secured a federal scholarship, and set off hitchhiking on the 850 miles of two-lane highway leading to the nation's capital.
"I took a ten-dollar bill and a lunch, went out Monday morning, put my thumb in the breeze and by Thursday I took the thumb down in Washington D.C.," said Davis
Never before had Davis encountered the kind of heated intellectual discussions that echoed around the classrooms and rec halls of Howard University. The campus was aboil with reactions to Fascism's rise in Europe. Mussolini had taken over an independent Ethiopia, and Hitler had enacted the Nuremburg Laws—the Nazi's version of Jim Crow for the Jews. "The entire Black community was alarmed," said Davis.
Davis was drawn to the bubbling discussions. "It was almost like being thrown in the pit—sink or swim," Davis said. At first he just listened carefully, and afterward filled in gaps in his knowledge at the library. Before long, he started to find his footing. "I began to jump in and have my opinions bruited about, and to ask questions," said Davis. "My mind became a live and probing instrument on that campus."
At that time, in 1935, some African American scholars were able to attend elite colleges and universities in the north, but the education job market—like almost all of American society—remained segregated.
The predominantly white institutions' loss proved to be the HBCUs' gain. At Howard University, Davis enjoyed a "roster of Black academic genius."
"It was our Harvard, it was our Yale, it was our Princeton," Davis said. "We knew about Fisk [University], and [Clark] Atlanta University, and Wilberforce [University], but Howard was the place to be."
Davis had come to Howard with the desire to be a playwright. In 1939, soon before he was to graduate, a professor advised Davis to apprentice himself with the Rose McClendon Players in Harlem. Davis couldn't wait until graduation—as soon as he saved $30, he caught a train to New York City. Catching the tail-end of the Harlem Renaissance, Davis' career in the theatre had begun. What Davis didn't know was that he would become better known for his acting than for his playwriting.
"I was never interested in acting," Davis said slyly, "and I've got the reviews to prove it."
Despite the early reviews Davis alludes to, he went on to success on Broadway. In his first outing there, he met Ruby Dee who became his collaborator and wife as well as an award-winning actress in her own right. Dee and Davis were married in 1948 and starred together in the Broadway production of A Raisin in the Sun. In 1961, they costarred in Davis' play Purlie Victorious. By this time Davis and Dee were well known for their political activism. They were masters of ceremonies at Dr. Martin Luther King, Jr.'s historic 1963 march on Washington, and Davis delivered his eulogy five years later.
Davis and Dee continued their entertainment careers as well as their activism. They continued to appear on the stage and in films, Davis tried on new roles as a director and screenwriter, and in his early seventies he earned recognition from a new generation of moviegoers—most notably in the movies of Spike Lee (a Morehouse College alumnus).
Numerous honors have been bestowed upon Ossie Davis. He and Ruby Dee were inducted into the Theater Hall of Fame and the NAACP Image Awards Hall of Fame. In 1995, he and Dee were celebrated as "national treasures" when they received the National Medal of Arts in 1995.
At 85, Davis remains a charming and modest raconteur. And he continues to credit Howard University with shaping his life.
"I can't imagine ever being who I am, whatever that is," Davis said, "without Howard."#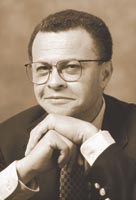 David Levering Lewis
by Mark Herz
Many prodigies appear to be delayed in some areas of their early development. David Levering Lewis—the recipient of two Pulitzer Prizes for his two-volume biography of the famous scholar and activist W. E. B. DuBois, and the recipient of a MacArthur 'genius' grant—could not read until the age of eight. His mother, a mathematics and Latin teacher, had to coach him so he could answer questions in the private school he attended in the segregated city of Little Rock, Arkansas in the early 40s.
When his father became Dean of Divinity at Wilberforce University, in Ohio, and Lewis started in a new school, his parents pleaded with him to take advantage of his fresh start telling him, 'you have a clean slate, for god's sake, read!'
"And, to my surprise, the first day, I did," Lewis said. "So whatever this block was, it evaporated, and I just took to reading as though I was in a panic. I read voraciously."
Lining the walls of his father's study were history tomes that the young Lewis ate up. His precocity became more and more evident. By 1951, Lewis' father had moved the family to Atlanta, Georgia where the elder Lewis took on the presidency of Morris Brown College. Lewis skipped his sophomore year of high school, and then entered a special program at Fisk University in Nashville, Tennessee. Lewis was 15 years old when he matriculated there. He had not bothered to graduate from High School. His family was pleased that he was attending the same school that the venerated DuBois had, but Lewis had no inkling then of the role DuBois was to play in his future life as a historian.
Graduating at the age of 19 with a double degree in history and philosophy, Lewis said the 60 young women and men in his accelerated program carried away more than a top-notch education.
"We left Fisk persuaded that we'd been really well prepared," Lewis said, "and that we could compete, race considerations notwithstanding."
After completing a doctorate in French history, Lewis began his illustrious academic career. His impetus to "access history through biography" had gathered steam, culminating in his first book, King, A [Critical] Biography, published in 1970. And though Lewis kept returning to his avowed specialty of modern French history, he also continued to write about African American history as well, producing When Harlem Was In Vogue in 1981, which chronicled the Harlem Renaissance. This book also continued Lewis' pattern of looking for untapped archival troves as a scaffolding to hang his historical analyses upon.
The next "archival opportunity" that whetted Lewis' appetite was the large, and inaccessible collection of DuBois correspondence at the University of Massachusetts. The moment Lewis got the call that the collection was open, he moved there, living with and reading through some 115,000 items, which he found "exhilarating."
"I sensed that this life was one of the great American lives," Lewis said, "and that you could say so much about the 20th century through his life."
At that century's onset, in 1903, DuBois famously remarked that, "the problem of the Twentieth Century is the problem of the color line." As the next century begins, Lewis feels a new set of problems is taking center stage
"The disabilities of color are fast fading; what isn't disappearing are the disabilities of class. The great problem of the 21st century is the problem of class, not color," Lewis said. Admitting his partisanship, Lewis criticized the recent Republican administrations saying they have skewed their fiscal and tax policies towards the betterment of the rich. The financial fortunes of HBCUs, although not to be laid at outsiders' doorsteps, are one part of this phenomenon.
"Fisk has no endowment to speak of," said Lewis, "every bad decision that could be made by the trustees has been made." And though many HBCUs find themselves in the same boat as Fisk, Lewis points out that there are success stories.
At Spelman College in Atlanta, Georgia, a former Fisk classmate of Lewis, Dr. Johnnetta Cole, raised an unprecedented $280 million over three years, before she moved on to help revive the faltering and much smaller Bennet College of Greensboro, North Carolina.
Lewis laments the possibility that HBCUs might be caught up in the current assault on affirmative action. He hopes they will now become more financially independent.
He believes HBCUs can avoid the pitfalls of the current political environment and what he sees as the on-going resegregation of higher education by following in Cole's footsteps.
Lewis points out, however, that he is not in favor of the complete abandonment of taxpayer funding of HBCUs, or other schools. He also deplores republicans' support of school sponsorship by religious organizations.
"That is, for me," Lewis said, "the abandonment of a whole democratic ideal that John Dewey, Ben Franklin and others thought would make this country a very special place."#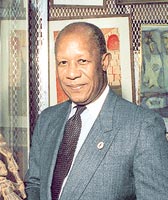 Howard Dodson
by Joan Baum, Ph.D
For Howard Dodson, one of the nation's premier African American writers, archivists, librarians and educators, Black History Month is a year-round affair – at least he's been trying to make it so, ever since his appointment 20 years ago as head of the Schomburg Center for Research in Black Culture at The New York Public Library at Lenox Avenue in Harlem. It was inevitable that Dodson's name would surface for Congressman Charles Rangel when he was asked last year by then Senate Majority Leader Tom Daschle to submit names for a presidential commission that would develop plans for a National Museum of African-American History and Culture. In announcing Dodson's appointment, the Congressman said what most black and white historians know – that "Howard Dodson is one of the nation's most distinguished scholars," an institution as revered as the one he has helped build.
With people such as Dodson at the Museum, Rangel went on to say, "visitors to the nation's capital will finally be able to witness in a comprehensive way" the story of African Americans "as we experienced it and as we wish to present it." The key words here which have always been operative for Howard Dodson are "nation's capital," for in fact what the Museum will establish has been what the head of the Schomburg has been doing in New York City for years – building what he proudly calls "the largest" research resource "in the world" for the study of African American history and making sure that its collections are available to teachers and the public at large. With national visibility, his mission to connect scholarship with classrooms will only be enhanced. "Virtually every documentary film that you see on public television has drawn resources from the Schomburg," he points out. He recognizes the popularity of education by "visual iconography" and wants to ensure that what is seen is intellectually authentic.
He puts action behind talk. "There's really a qualitative gap between what's known in the different fields of African American history and what's available to teachers," and so the Schomburg sponsors summer institutes for teachers and curriculum specialists from all over the public school system, intensives that deal with a variety of historical and literary issues and that are led by scholars such as Henry Louis Gates and William Strickland. Last summer's institute, for example was on the African Migration Experience, To and Within the United States, "a fresh way of looking at our history in terms of social and family networks and new environments." To make certain that these seminars receive even wider distribution, Dodson has directed that content and lesson plans are incorporated onto a website. Eventually, there will also be available a database of images and texts and down the line, a television station, more Internet sites, and streaming video versions of, for example, the fabulous "Jazz Oral History Project."
The hope is that history presented imaginatively will spur teachers to be more creative and inclusive in the way they handle race, gender, ethnicity, and large religious, social and military movements that have defined this country. Too many textbooks still mimic the old, disproportionate ways in which African Americans are included in the nation's development by being tagged on rather than being integrated naturally into the larger American experience. He would also like to see texts not shy away from important but controversial issues, such as affirmative action and the movement for reparations, which at the least should "create the space for discourse." Too often, he points out, American history texts reflect their geographical regions and are thus market driven, with certain states still ignoring certain historical facts. Ten years ago he proposed that "urban school districts get together and create a counter-market" and "definitive texts' driven by and reflective of scholarship that would be used nation wide.
Lest it be perceived, however, that this noted Black educator has only blacks in mind as topics and audience, Howard Dodson speaks eloquently about the need for not just African American history but for the history of all peoples, Native American, Hispanic, Asians, for example, to be better represented in school texts at all educational levels: His own schooling in this regard came rather late, he acknowledges—spurred on by the assassination of Martin Luther King, which prompted him to join the Peace Corps, which gave him time for extensive reading in black history and culture, and which encouraged him to enroll for doctoral study at the University of Berkeley in California, in its formative program on black relations in the late sixties. The road then led to Atlanta, where the formidable scholar ran for 10 years a research center, the Institute for the Black World, and then to Washington and the National Endowment for the Humanities for three years. Ever since he has been with the Schomburg – but hardly administrative only.
He has a new book coming out—Jubilee: Lest We Forget Slavery (National Geographic Press)—and for sure, the ideas keep perking. Any driving forces out there who would like to help him renew and advance the "definitive text" idea?#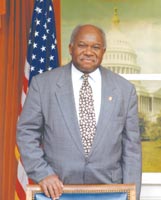 Congressman Major Owens
by Mark Herz
Like so many of the young African American men that had gone before him, Representative Major R. Owens, Dem., District 11, Brooklyn, was transfigured by his HBCU experience. Owens had been at the top of his High School class in Memphis, Tennessee. After taking a special exam in 10th grade, he entered college in 1952 in Atlanta, Georgia—a 16-year-old intimidated by the "roomful of valedictorians" he found himself amongst.
"Morehouse College took a scared factory-worker's son and created a sense of self in him," said Owens.
Owens thrived on the personal attention he received as one of only 750 students. He majored in Mathematics with a minor in Education—and did so while working part-time jobs his last two years to make ends meet.
His next step was to earn a Masters of Library Science at Atlanta University in 1957. From there Owens came to Brooklyn where he took a leadership role in the local civil rights movement, and became the community coordinator at the Brooklyn Public library. Soon he had moved on to directing one of the city's 26 anti-poverty programs. In 1966, Mayor John Lindsay asked him to be Commissioner of the city agency that oversaw all the anti-poverty programs.
"I let the public be my boss," Owens said. And he's never worked for another boss since. An eight-year stint in the State Senate was followed by his election to the House of Representatives and re-election to nine more terms.
In the House, he is the second-ranking Democrat on the Education and Workforce Committee, and the ranking Democrat on the Subcommittee for Workforce protections.
He has continued to fight for all his varied Brooklyn constituents while keeping his eyes on greater national concerns, from workers' rights to civil rights. And education will always be high on Representative Owens' list of priorities.
" Affirmative action is a very mild solution," Owens said, "My desire to write laws that support it has not been quelled."
Owens has supported HBCUs (and other historically disadvantaged institutions) by authoring Title 1 3B—"the best federal benefit they have," said Owens.
"We don't say HBCUs are the answer for all minorities," he added. "They were useful to young people in the segregated South, taking them from sheltered backgrounds where few people went to college and preparing them for professional careers.
They're still struggling. They have no great benefactors, but the need for them and their mission is as great as ever," Owens said. "We've got to keep them alive."#