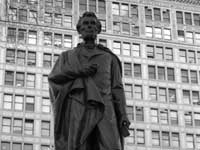 Win Free Movie Tickets: Where is this Statue?
Soon after the assassination of Abraham Lincoln in 1865, the Union League Club, a Republican organization founded two years earlier to promote good government, commissioned Henry Kirke Brown to create this commemorative statue. Of the many outdoor portrait statues of Lincoln erected in the United States, this appears to be the first in New York City.
If you know where this statue is, please email us the location at ednews1@aol.com or fax us at (212) 477-5893. You must include your name, address, and telephone number. The first to respond will win the prize.
Congratulations to our last winner! Katherine G. Brennan of Manhattan was the first to write in with the correct location of Admiral Farragut located in Madison Square Park.#