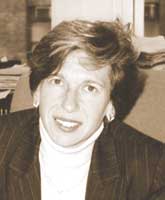 Looking for Scapegoats
by Randi Weingarten, President, UFT
During recent hearings before the City Council, I started to wonder what school system Council Education Chair Eva Moskowitz and Schools Chancellor Joel Klein were talking about. If you believe them, our system is one where teachers have all the advantages: ideal working conditions, competitive pay, and strict work rules that make their lives easy. Meanwhile, teacher tenure, seniority rights and a defined pay schedule are responsible for all the evils in our schools.
But that's certainly not the New York City public school system I know. If it were, teachers would be breaking down our doors to work here, and would leave only after long careers. Instead one in four of our new teachers leave within a year, 40 percent within three years. The fact is that nearly ten thousand New York City public school teachers head for the exits every year. Demoralized by oversize classes, shortages of equipment and supplies, and lack of administrative help in enforcing discipline, they leave for the suburbs, other careers, or retirement.
The fictions about the city's schools may produce headlines, but the facts are what we have to consider when we try to make our schools better.
Tenure: Council Member Moskowitz and Chancellor Klein made much of the fiction that the contract shields incompetent teachers.
Fact: In a member survey a few years ago, more than 80 percent of our members said they did not want to teach beside incompetent teachers, though they did insist that people have a process by which they could defend themselves.
This union and the Legislature have streamlined and expedited the teacher disciplinary process three times in as many contracts. What the chancellor says takes years; last year under the new rules took on average, 65.5 days.
Seniority-based assignments: The chancellor promotes the fiction that seniority keeps the most experienced teachers from the schools where he believes they are most needed and forces new teachers into the most difficult settings. Fact: Last year, principals hired nearly 9,000 new teachers to fill vacancies, and seniority transfers filled about 600, less than 10% of the total. (Keep in mind that many of these 600 can simply retire. That's what happened with a number of our educational evaluators who were mistreated by the system this year and chose to retire rather than take inappropriate assignments). Fact: Many middle-class districts got more new teachers this fall than hard-to-staff areas. Fact: Thanks to incentives we worked out with the previous administration, hundreds of experienced teachers have been attracted to and have remained in the otherwise hard-to-staff schools in our Extended Time program.
Single pay schedule: The chancellor says he wants to be able to pay more to teachers in shortage areas and in harder-to-staff schools, but the union won't let him. Fact: In 2000 the union included in its contract proposals additional pay for teachers who earned certification in specified shortage areas. We have been open to other similar proposals.
Keeping good teachers: Our last contract raised starting salaries and the system made great strides in recruiting qualified teachers. The problem now is retention. Because if we can't keep the qualified teachers who are hired, building a cadre of experienced, well-prepared teachers becomes like trying to fill a bucket that has a hole in its bottom. It's costly and counterproductive to hire thousands of well-qualified people every year, invest millions of dollars in incentives, orientation and professional development-only to see so many of them leave. Worse, it's bad for kids.
The Bloomberg/Klein administration has already experienced a number of failures in its short tenure: poor planning led to serious overcrowding in many schools; thousands of new teachers went unpaid and without medical benefits for weeks and even months; lack of teacher training in the system's new reading and math curricula have made it very difficult for kids to grasp this difficult material; music and art programs have been decimated; and teachers and parents are bridling at supervisors' attempts to micromanage everything from the placement of desks to the number of staples on bulletin boards.
Confronted by the chaos they have created and faced with their own failure to bring positive change to our schools, the Bloomberg/Klein administration has decided to scapegoat teachers by focusing on the fictions of the New York City system rather than its real needs: a qualified teacher in every classroom; the books, supplies, resources and disciplined atmosphere that make instruction possible; and a relationship with teachers that supports rather than demonizes them.#