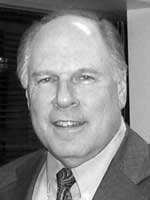 The Private Sector Helps CCNY to help
the Public Schools
by Alfred S. Posamentier, Ph.D.
It is by now no secret that we have a national crisis in the teaching of mathematics in our urban schools. What is news is that the private sector is coming to the rescue! In June, New York State got a wake-up call. Over two-thirds of the students taking the graduation-required Math A Regents examination failed. The resulting political alarm led to a Commissioner's panel (of which I was a member) that rescaled the test, and thereby reduced the damage. The message was clear: We have an emergency situation in front of us and we must act immediately.
The crisis is that our math teachers are insufficiently prepared to teach our students. There is probably no better illustration of this than in New York City, where the latest estimates show that about 50 per cent of the math teachers have less than four years teaching experience. Couple this with the long-standing placement dilemma that results in our least experienced teachers being assigned to the weakest schools and you have a problem of almost insurmountable proportions.
Much of this is the product of a severe shortage of mathematics teachers. Incentives for entering the math teaching profession, such as job security during the Great Depression and draft deferments for men in the 1960s, no longer exist. To add to the problem, information technology, an attractive new industry that did not exist in the past, siphons off talented individuals who might otherwise have turned to teaching.
The question is what can be done to improve mathematics instruction in the schools today? The New York City Department of Education has been devising innovative methods for bolstering the teaching ranks with qualified mathematics teachers with less than hoped for success. For example, the Teaching Fellows program, designed to take career changers through a fast track alternative certification process, attracted fewer math teachers than expected. The program was then broadened with a math immersion program that took marginally math-prepared individuals, supplemented their mathematics training, and provided them with the pedagogical support needed to become certified. Even this did not enable the City to fill all its secondary school math positions. In an effort to fill the rest, the State Education Department granted the City waivers, allowing it to hire uncertified mathematics teachers to fill vacancies. This further exacerbated an already severe problem of teacher quality.
Certainly financial incentives such as signing bonuses for new math-prepared teachers, or offering math teachers higher salaries are available options. The problem with these is that they are unlikely to be embraced by teacher unions and therefore probably unrealizable. Another option for improving our math teaching force is to recruit teachers from other countries that have a surplus of such teachers. In 1998, we, at the City College of New York-School of Education, initiated a program that brings math and science teachers from Austria, where there is a surplus. For the most part these teachers have performed admirably, but they only stay for a few years and then return home, having acquired the advantage of being able to teach their subject there in English-a tremendous asset in Europe. Using such teachers is not a solution to the problem; it is merely a temporary abatement.
The challenge of improving the current teaching force-training large numbers of teachers-at times seems insurmountable. If, however, professional development could take place at each school, the problem could be solved. The teachers' immediate supervisors (in New York City they are assistant principals) are selected largely for their administrative abilities, and not necessarily their teaching skills. If we could provide the support these administrators need to make them instructional experts, they could then take on the responsibility for improving the mathematics instruction in their schools by working with each of their teachers. In this way, through a multiplier effect, we could efficiently improve the competence of all math teachers.
The public sector alone does not have sufficient resources to solve this problem in a comprehensive way. To realize this concept I turned to the private sector for help, with proposals to two very concerned individuals to develop a program to improve the instructional leadership skills of the secondary school assistant principals in charge of mathematics. The proposals were favorably received, resulting in two grants totaling $5.7 million from CCNY alumnus, Stanley H. Kaplan ($2 million), and the Carroll and Milton Petrie Foundation ($3.7 million). The grant from Mr. Kaplan will train many middle school supervisors of mathematics, while the grant from the Petrie Foundation will train all the high school math assistant principals. Their leadership and vision in helping to reverse the continuing decline in the teaching and learning of mathematics should provide a shining example to others in the private sector. With equal insight and enthusiasm, Chancellor Joel I. Klein and the New York City Department of Education are partnering with the City College of New York to implement this new training. It is imperative for the for-profit world to realize its responsibility in making our young people mathematically literate, especially in light of the demands of the technological age.#
Alfred S. Posamentier is Dean, School of Education, The City College-CUNY