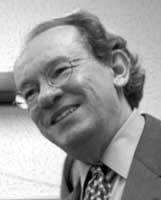 Profiles in Education:
Prof. David Elliot, NYU
by Joan Baum, Ph.D.
What do music educators do? The sweet tenor voice hardly betrays the insistent author of Music Matters, Dr. David Elliott's 1995 declaration of "paraxial philosophy," which he believes must inform music education if it is to have "value." Most music educators, he said, mere academics, train their students to make a living. There are exceptions, he allows, and he doesn't mean to dismiss real-world needs. Indeed, his own students, who graduate with bachelors, masters and doctorates, "all get jobs," whether they're in education, music therapy, composing film scores, playing jazz, tutoring techniques. After all, he points out, corporations want to locate where there is art. But unless students are also encouraged-make that primarily encouraged-to regard music not as a way to make a living but "a way to make a life," they will never achieve a "multidimensional" appreciation of music that will serve them well, not to mention the world.
David Elliott is a music educator with a passion and an agenda. At the Steinhardt School of Education at New York University, where he has been Director of Music Education for the last year, after teaching and performing all over the world, including being Professor and Chair of Music Education at the University of Toronto for 25 years, he pursues his belief that music educators must be entrepreneurial advocates of social action. His views and the fervor with which he advances them have won him praise from devoted followers who call him discerning, candid, constructive and original, but those same views have also elicited sharp criticism from those who dismiss his ideas as either old hat or mistaken. Though Dr. Elliott confidently speaks of Music Matters as "rocking the boat" and "challenging received wisdom," he confesses he was "astonished" at the negative response. Listening to him articulate his deeply held views, however, suggests that style may be more the problem than substance.
Dr. Elliott equates old ways of teaching music with European concepts and traditional pedagogy, whereby students are basically passive recipients of lectures, inculcated with theory and rarely given a chance to cross the stage to experiment and perform ("praxis" means exercise or practice), and then rarely on instruments from other cultures and countries. He speaks of music as community and cites his lower-middle class Irish family in Toronto, where he grew up, as his great influence and inspiration. Everyone in his home played music, especially his father, a self-taught jazz pianist and composer. Though he himself was making music at four, conducting at eight, and went on to study composition, he believes that "everybody can do music." Any music. He is his own best example, a multitalented musician who has written scores for movies and commercials and composed compositions for various groups and children's choirs, though his preference has always been jazz.
He is delighted to be at a major university helping to develop a "unique" program in music education, fostering the "nature and values" he considers paramount-performing, improvising, composing, arranging, conducting, exposing students to a diversity of genres and cultural traditions-all of which strengthen creative abilities and listening skills. The NYU program of 75 undergraduates, 35 Masters candidates and 8 doctoral students, double the number just two years ago, certainly keeps him busy, but he's also absorbed in writing an undergraduate text, Becoming a Music Educator, which will have a website showing "action-based video clips," and he's gathering essays for a book (Paraxial Music Education) from 17 professionals around the world that will answer his critics and advance the paraxial word.