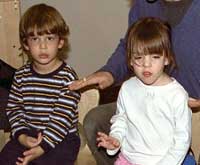 A Therapeutic Mecca: The McCarton School
by Jocelyn K. Egyes
Sitting in Dr. Cecelia McCarton's office there is no doubt that her passion is children. Kermit the Frog and a teddy bear sit side by side on a bookshelf while dozens of other toys line her office. But it's a special kind of child that warms the heart of this pediatrician, it's "children who are different" says McCarton, her blue eyes passionately sparkling as she speaks of 'her' children.
"Our inability to connect with these children should motivate us to figure out what is inside these children and help them." McCarton refers to children with Autistic Spectrum Disorder (ASD). Trained as a medical doctor and an academic at Albert Einstein for 25 years, McCarton says, "The years at Einstein were wonderful, but it was time for me to move on. I wanted to go back to being a doctor."
Nowadays, McCarton not only sees children, but also runs The McCarton School for children with ASD, on the Upper East Side of Manhattan.
"Our interdisciplinary program is truly unique," says McCarton. "No one is king of the hill, everyone is equal."
Autism, a developmental disorder, is also called a spectrum disorder because children are affected in different ways and in different degrees. A child with ASD usually has expressive and receptive language disorder, limited social interaction skills with peers, and a restricted range of interests. These children are either diagnosed at birth, or as in 1/3 of the cases, diagnosed around 15 months. In addition, some children present only some signs of autism and are diagnosed with Pervasive Developmental Disorder Not Otherwise Specified (PDDNOS).
"Diagnosticians are sometimes very hesitant to use the 'A' word, (autism) with parents because of the stereotypes," says McCarton. "So they will say your child has PDD or your child has PDDNOS when in actuality, the child is autistic. People think that PPDNOS is better than getting a diagnosis of autistic disorder because there is more hope for their children."
McCarton states that autism is not a hopeless diagnosis. "You can bring about enormous change in these children. You must have qualified therapists but you can change the children," she says encouragingly.
The McCarton School, which educates 18 students a year ranging from three to eight years of age, focuses on speech and language therapy, occupational and sensory therapy, and Applied Behavior Analysis (ABA) therapy. "The technique of ABA therapy is breaking a task down to the least common denominator," says McCarton. She adds, one of the most important factors of ABA therapy is focusing on the positive. "You don't comment on negative."
The McCarton School is one of three schools in New York City, which focuses on ABA therapy. There is a one-to-one ratio of teachers to students at the school. McCarton says ABA therapy requires a lot of work on the part of the therapist and child. She adds, "There has been criticism of this therapy because some say it feels 'robotic' and 'mechanical' but unless you teach a child to sit at a table and look at you, you will never get a child to learn." Equally important is ensuring that responses will generalize to other environments and situations. For example, a child may be taught to look at you at a table but not in the playroom.
In addition, McCarton says every child may require different types of therapy and research will help determine how to work with each individual.
"I believe that money must be allocated into learning what the best therapeutic interventions are for these children, because we have to teach and educate them on a daily basis. While basic research is important, many children may not benefit from it immediately. While research is being conducted daily, it is still unclear exactly what causes autism which affects boys 4 times greater than girls in increasing numbers each year. "It used to be 2 to 4 in 10,000 now it's 1 in 250. That is more than any other childhood disease that we have," says McCarton.
"The belief among the medical community is that this is a genetic disorder and that it probably takes about 6 or 7 separate genes to get the full blown picture of autism, autistic spectrum disorder or PDD. Some children may have a predisposition that has been environmentally triggered," she added. There are about eight centers in the United States working to track the genetic relevance to children with autism. "People are passionate in their beliefs about what the triggering event might be. It's all speculative and we don't know. It's unfortunate because it's impossible to treat an illness whose cause is unknown."
So far, McCarton is treating the students and the proof comes from the 30-35 per cent who are mainstreamed after being in her program for three years. "My hope is that the children are going to move out of here."
Each year there are 127 applicants to the McCarton School and only six available spots. Tuition for one year is $65,000 yet McCarton says it costs $132,000 to educate each student. With no money coming in from the state, McCarton says money from a scholarship fund helps with the expenses but the parents also lend a hand. "They fundraise, network and do anything in their power to raise money."
Parents are also encouraged to be involved. Each therapy room is equipped with a double-sided mirror where parents can visit and observe unobtrusively at any time. Furthermore, everything is taped so if parents miss a session, they can still see their child's progress. "The more you know, the better off your child is," says McCarton.
McCarton says the goal is to have 24 children enrolled and then move into a bigger school. Each day, she is encouraged by how far the children have come.
"Sometimes kids can't recover but I know the kids are in much better shape than when they entered," says McCarton. "They have come a long way; they have learned and will continue to learn."#