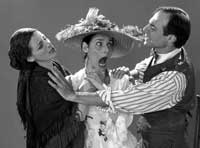 "Lady Next Door" Opens Folksbiene's 89th Season
by Jan Aaron
A tale of 20th century immigrants, performed first in 1916, gets the forever-young Folksbiene Yiddish Theater's 89th consecutive season off to a great start with Leon Kobrin's "The Lady Next Door" at the handsome new Jewish Community Center theater at 76th and Amsterdam. Skillfully adapted and directed by Allen Lewis Rickman, who also translated the English super titles above the stage, the play will continue through January 4.
Subtitled, "Temptation in the Tenements," it's a classic comedy-drama about a strong handsome immigrant blacksmith from the Russian shtetl who falls head over heels for a conceited vamp, and forgets all about the wife, a real mensh, he left at home. That's the essence; yet the plot extends beyond this theme to include assimilation, shedding the old world ways, come what may, to take advantage of opportunities and temptations in the new world.
"The Lady Next Door" begins on a balmy day in 1913 at home of the local blacksmith Kulye, (David Mandelbaum) in the shtetl, where a lurking constable and his dogs and money lender (played by Rickman) keep the Jews in line. Kulye's kids Khyenke (Alison Cimmet) and the short tempered Velvel (Sam Guncler), who habitually has run-ins with the constable, and Ben-Tsien, (Amitai Kedar), the rabbi's son and Kheynke's secret fiance, are packing to leave for America. Velvel's young wife, Hindele (Yelena Shmulenson-Rickman) weeps and worries about their safety. "We'll live like royal lovebirds," says Velvel, promising to send for her in three months.
Two years later: Velvel hasn't even thought of bringing his wife over. In fact, he has become "Willie," a jaunty, smooth-shaven guy and non-observant Jew, with a bow tie and snappy suit, a labor organizer and powerful orator. Also, he often visits the Suffolk Street neighbor of the now wed, Khyenke and Ben-Tsien, the painted and powdered Clara Ryabtshik (Debra Frances Ben), his ideal modern woman, who ignores her widowed mother, and taunts her husband Gimpl (I.W. Firestone), a man of considerable means and ingenuity. Gimpl sends money to Russia to bring Kulye and Hindele to America.
I hate to give away the ending. Go, find out for yourself! (Tickets, $45, 212-239-6200; groups, 212-213-2120.)#