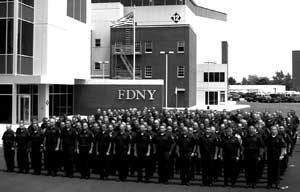 $45 Million State-of-the-Art Fire Training
Facility Opens
Mayor Michael R. Bloomberg and Fire Commissioner Nicholas Scoppetta recently opened the Fire Department's new $45 million fire training facility at the Fire Academy on Randall's Island. This much-needed facility included the construction of three new buildings and the renovation of one existing structure. The renovation includes a 6,000 square foot "Burn Building," the 35,000 square foot Field House containing a fire-fighting simulator and a 35,000 square foot learning center. The "Burn Building" uses computer controlled technology to simulate conditions of a live fire in many different types of construction, as well as other scenarios, such as automobile fires or dock fires. Probationary firefighters will experience realistic training including heat and fire simulations. The adjacent Field House contains the latest in fire fighting technology including a structural fire-fighting simulator. The Field House simulates a street complete with different buildings representing major types of construction used in New York City, including private dwellings, commercial structures, apartment houses and brownstones. Firefighters will practice varied operational techniques including entry, search, ventilation and hose line operations in each of these structures. A state-of-the-art Learning Building consisting of six classrooms that offer the latest in audio-visual technology, as well as a distance learning center, that will provide instructional opportunities for firefighters in remote sites. The building will also house new locker rooms, cafeteria, gym and a bunker storage facility.
"This state-of-the-art facility will provide the training that our firefighters deserve," said Bloomberg. "Since September 11th we have hired more than 1,800 probationary firefighters and are rebuilding the ranks of this great department with the best equipped and best trained firefighters in the world. Not only will our probies benefit from this enhanced facility, but also all firefighters and officers will use this facility for in service training. The FDNY never stops learning, training or preparing new techniques to keep New Yorkers safe."
"The City of New York has always relied on its firefighters in times of crisis or disaster. But at no time in our department's history has the City depended so heavily on the ranks of the Fire Department as one of its first line defenses against terrorism," said Scoppetta. "This modern facility will provide us with the ability to support the vast new array of crucial technology necessary to continue training our firefighters to respond to any emergency effectively, efficiently and safely with the best protection possible—knowledge and training."
The final phase of this project will be modifying the existing "smokehouse" building allowing probationary firefighters to train under real smoke conditions. The Fire Department's 27-acre Training Academy now consists of 12 buildings. The Academy opened in 1975 and was constructed—at a cost of $13 million—by the New York State Urban Development Corporation.#
For more information contact Francis X. Gribbon (FDNY) (718) 999-2056.