Dancing with Wheelchairs in New Mexico
by Jan Aaron
"Like other people, little girls in wheelchairs and older people, too, want to dance," says Shira Greenberg, founder and artistic director of Keshet Dance Company based in Albuquerque, NM. She adds: "Anyone—regardless of age, physical abilities, or expertise can become a beautiful dancer." And she can prove it. Keshet offers a dance haven for the young, the young at heart, able-bodied wheelchair user, novice and professional. "They all explore the experience of dance and enrich our community," she adds. Her story, which recently impressed me during a visit to Albuquerque, also can be inspirational to all arts educators.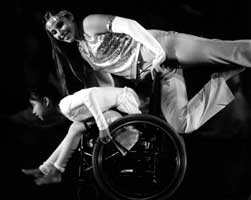 Greenberg started studying ballet and modern dance with the Minnesota Dance Company at age 9. She has since studied, taught and performed dance throughout the United States, and in Israel. She moved to Albuquerque in 1996. In lean times, Greenberg lived in a corner of her studio, and, through community organizations, offered dance instruction to all levels and ages groups throughout the city. If you're visiting Albuquerque, you might catch a performance.
Today, with her executive director, Jane Dixon, mother of a 1997 student handling Keshet's business side, the company is thriving in an 8,700 square-foot facility in downtown Albuquerque, and is nationally recognized for its excellence in arts education. Focusing on "forgotten" individuals who wouldn't otherwise have the opportunity to experience the joy of movement, Keshet offers classes in modern dance, contact improvisation, and two annual shows, including her well-known Nutcracker on the Rocks and a spring show of diverse programs. Keshet has won prestigious local awards, and on the national scene, Bravo Television Network's 2000 National Arts in Education Award, and, more recently, the Peter F. Drucker Award for Non-Profit Innovation.
"Parents, school teachers, the kids themselves testify to the transformations that Keshet fosters," says Greenberg. She adds, their dedication to dance filters into schoolroom focus and all manner of behavior. "They are living proof that an education in the arts is indispensable."
At a performance of Nutcracker on the Rocks seen on tape (this writer was not in Albuquerque at Nutcracker season), the costumed performers, young and not-so, plump, slim, low-income and well-off, as well as wheelchair-users formed a vivid tableau, looking much like what the word Keshet means in Hebrew—a rainbow.#
For more information, write to info@keshet dance.org.