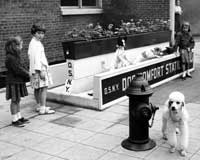 It's a Pet's World, We Just Live in It
by Rob Luchow
"This city is petcentric and a petocracy."
These are just some of Roberta J.M. Olson's words to describe New York City's relationship with its animals. As Associate Curator of Drawings and one of the head curators of the new "Petropolis: A Social History of Urban Animal Companions" exhibit at the New York Historical Society, she knows the city and its pets.
"This is a total romp and discovery," she said. "It is a great history of cities, urbanization and pets."
Partnered with The Humane Society of New York, "Petropolis" uses animals as navigators of history. From seventeenth century portraits of regaled horses to photographs from the Westminster Kennel Club Dog Show, animals have become integral parts of families and society.
"It's not just humans that have history," said Kathleen Hulser, Public Historian and a head curator of the exhibit.
The exhibition guides the viewer through several different rooms, each with specific time periods and themes. The first two sections titled "Beautiful Beasts from the Wild Kingdom" and "Creature Comforts: Domesticity and the Nineteenth-Century Pet" demonstrate society's domestication of animals as pets. The last two exhibits "Urban Animals and Spaces" and "Obsession: Loving Relationships and Deluxe Pet Services" show pets' influence on urban customs and their ability to generate human devotion. The exhibit features several well-known artists throughout American history, including Civil War photographer Matthew Brady, painter James Henry Beard, street artist Keith Haring and Weimaraner photographer William Wegman.
However, the exhibit does not just expand the definition of history by exposing the unknown culture of pets, but rather the curators develop the concept of art. Beyond paintings and photographs, "Petropolis" reminds the patron that art is ubiquitous by including architecture (dog houses and birdcages), clothing (a Todd Oldham denim dog jacket and lavish dog and cat collars), and commercial art (unique "Lost Pet" posters and Department of Health posters).
"Petropolis" succeeds by incorporating unique history and being fun and family-friendly. Exhibits like Charles Eisenman's Ringling Family photographs provide a lighter side to the exhibition, along with the interactive elements like a playable "Dogopoly" and various children's books.
"Petropolis" is on view from July 15 to November 9, 2003. Special guests throughout the exhibitions run include cat therapist Carole Wilbourn, celebrity animal trainer Bash Dibra, and Broadway pet coach Bill Marone.#
The New York Historical Society is located at 2 West 77th Street. For more information call (212) 873-3400 or visit www.nyhistory.org.