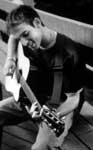 Camp & Spy Kids 3-D: Great Summer Fare
by Jan Aaron
Actor screenwriter Todd Graff's first feature, "Camp," is about a bunch of self-described "freaks" who spend their summer at Camp Ovation, a musical workshop for youngsters in upstate New York. Know any kids you'd like to send to a place like this? It exists. The movie was inspired and filmed at Stagedoor Manor Camp at Loch Sheldrake, NY. Graff not only spent time here as a child, he returned later to teach such budding actors like the 8-year-old Robert Downey Jr.
"Camp," like the earlier "Fame," is populated with familiar young show business hopefuls, but there's a difference—portrayed here are a mix of black, white, Latino, gay and straight. There's a charming gentleness about the film's frank treatment of their emotional problems and sexual orientation.
The exuberant opening sequence introduces three principal characters and establishes their outsider status while camper Dee (Sasha Allen) leads R&B-gospel number "How Shall I See You Through My Tears." Vlad (Daniel Letterle), practices for success in front of a mirror; Ellen (Joanna Chilcoat) pays her older brother to pose as her prom date; Michael (Robin De Jesus) shows up at his prom in drag and is beaten by jocks. We meet others like the hard-boiled blonde and her worshipful roommate arriving at the camp.
The story is simple: Vlad has a neurotic need to liked; Michael yearns for parental acceptance; Bert (Don Dixon), a has-been Broadway composer, drowns his sorrows in drink and prepares the kids for bitter disappointment in the professional world. The story's climax is a camp show that gives every kid a chance to shine or a moment of liberation, exoneration, or satisfaction. The most moving of these highlights Jenna (Tiffany Taylor) reclaiming her father's respect in a powerful ballad. In addition to being the kids' idol and well represented in songs, musical show maestro Stephen Sondheim shows up in a cameo. (11O minutes; PG-13).
For young kids: "Spy Kids 3-D Game," here, don 3-D glasses and watch preteen Juni Cortez (Daryl Sabara) rescue his older sister Carmen (Alexa Vega) who has become trapped while trying to disable a nefarious computer program. Best is this movie's strong message of family and dignity of the physically challenged. (85 minutes, PG.)#