Oldest School at General Society of Mechanics & Tradesmen
By Sybil Maimin

Among the many wonderful secrets waiting to be discovered in New York City is the Mechanics Institute, a tuition-free school started in 1820 that trains workers in the construction trades about the finer points of their crafts. Founded by the General Society of Mechanics and Tradesmen, a fraternal organization begun in 1785 to aid members in distress, the school has been housed since 1898 in a magnificent 1891 landmark building at 20 West 44th Street along "Club Row." Behind the eclectic Renaissance façade is a wonderfully preserved turn of the century interior that holds six lecture classrooms, six architecture drafting rooms, and three computer labs as well as a striking, open-spaced, four-story private membership library topped with a domed glass roof. A unique small museum containing a fascinating collection of over 400 locks as well as other items of historical or mechanical interest can be found in the building, which is open to the public. Library membership is available to all for
a small fee.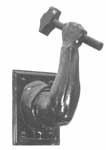 Continuing its traditional educational mission, the Institute today offers free classes in four areas related to the construction trades: architecture and construction, electricity, plumbing, and HVAC (heating, ventilation, air conditioning), as well as project management. The courses, which number over 50, are rigorous and intended for serious students already employed in a particular field who want to enhance their technical skills with the "why's" behind the "how's" in order to advance their careers. The program requires a three-year commitment (fall and spring semesters) of two courses (5 to 7 PM and 7 to 9 PM) in one concentration taken two nights a week. It is intended to fine-tune aspects of a trade that cannot
be learned on the job, for example, drafting or blueprint reading. It conveys informational knowledge rather than the practical, hands-on experience that is gained in apprenticeships or in courses offered by unions. A professional development course that prepares students for job searches is mandatory. About 200 students (10 percent women and growing) and 16 instructors are in the program. Applicants must be high school graduates, fluent in English, employed in the area of intended study, and sincere in their desire for enrichment in their chosen trade.
As the Institute prepares for the future and what it hopes will be a role as a bridge between different sectors in the industry and between union and non-union interests, it hopes to add
a greater range of offerings. The project management course and a computer-assisted drafting (AutoCAD) course for stagehands can be
completed in one and a half years. The Institute is contemplating a course for building maintenance workers. The certificate of completion awarded at graduation does not have a degree equivalence but is recognized and respected by those in the construction industries.#
For further information: www.generalsociety.org

Education Update, Inc., P.O. Box 20005, New York, NY 10001.
Tel: (212) 481-5519. Fax: (212) 481-3919.Email: ednews1@aol.com.
All material is copyrighted and may not be printed without express consent of the publisher. © 2002.
---