Upbeat Uptown: "Harlem Song" Dramatic Downtown: "Shanghai Ghetto"
by Jan Aaron

George C. Wolfe's, "Harlem Song," at the legendary Apollo Theater, tells the history of Harlem through a 90-minute revue, combining songs, dances, films, and interviews. This is an enjoyable, but not groundbreaking, history lesson for everyone. Monday's 11 a.m. show is for students (to order the teacher's guide, call 212-977-1100). The $4-million revue was created to attract tourists to newly revived Harlem and its world famous Apollo, now undergoing a multi-million dollar facelift.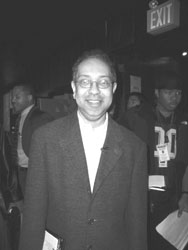 Wolfe, ("Bring in Da' Noise/ Bring in Da' Funk"), the producer at the New York Public Theater, crams a lot into a fairly brief experience. Here is an oral history of Harlem, a visit to the old hotspots, and a feel-good message about the future, expressed through first rate dancing, from cakewalks and jitterbug to shake, and marvelous blues, ballads and gospel. Interspersed are video clips of Harlem residents reminiscing about their beloved neighborhood. Their comments are fascinating. Biographical notes would be a valuable addition to the printed programs. Atmospheric old film-footage is projected above Riccardo Hernandez's spare, but innovative set.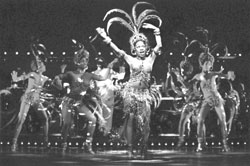 The talented 16-person ensemble portrays, in 11 segments, defining moments in Harlem history. One of the most memorable, "The Depression" features fabulous dancing at a rent party, which Harlemites back then paid to attend as a way of raising rent money. This is followed by a ballad, "Here You Come With Love," tenderly rendered by Queen Esther. The show pays brief attention to the neighborhood's decline after World War II.
Music includes classics like Billy Strayhorn's "Take the A Train" (here in Spanish Coje El A Train by Nilo Cruz) and new numbers with lyrics by Wolfe and music by Zane Mark, conductor of the on-stage orchestra, and Daryl Waters. Jules Fisher's and Peggy Eisenhauer's evocative lighting, Paul Tazewell's period costumes, and Ken Roberson's right-on choreography provide stunning moments throughout.
On the serious side, not-to-be-missed downtown at the Quad is the award-winning movie, "Shanghai Ghetto," a feature documentary about Jewish refugees who escaped the Holocaust in the only place open to them—Shanghai, China. (Apollo Theater, 235 West 125 Street, Saturday, Sunday and Monday; tickets, 212-307-7171; $20-$50; for film timings, call 777-FILM.)#

Education Update, Inc., P.O. Box 20005, New York, NY 10001.
Tel: (212) 481-5519. Fax: (212) 481-3919.Email: ednews1@aol.com.
All material is copyrighted and may not be printed without express consent of the publisher. © 2002.
---