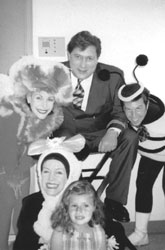 The Little Orchestra Society's "Lolli-Pops" Find New Home
Lolli-Pops, The Little Orchestra Society's popular concerts for children ages 3–5, will be making their new home at the Kaye Playhouse at Hunter College (68th off Lexington) for the 2002-2003 season. Conducted by Music Director Dino Anagnost, these special 50-minute concerts feature Bang the Lion, Bow the Panda, Buzz the Bee and Toot the Bird–four animal characters each representing a section of the orchestra. The animals take center stage along with Maestro Anagnost and together they help the children in the audience playfully discover the wonders of classical music.
Dedicated as "The Playhouse at Hunter College" in 1942 by President Franklin Delano Roosevelt, the theater has been the site of many memorable performances. Marian Anderson,Pinchus Zuckerman, Jussi Bjoerling and Martha Graham are just a few of the legendary artists that appeared at The Kaye during its first three decades. Due to the financial crisis in the 1970's, the playhouse was closed. It was re-dedicated as "The Sylvia and Danny Kaye Playhouse at Hunter College" in 1993 and has since featured a wide array of artists including Audra McDonald, Sherill Milnes and Ballet Trocodero de Monte Carlo.
There are many benefits for The Little Orchestra Society in moving to The Kaye. The theater itself is significantly wider, thus providing more up-front seating. The direct access from the street eliminates the stairs, which will be very much appreciated not only by our patrons, but also by our production staff. The Kaye has a large coat check facility where patrons can store their belongings. In addition to these improved facilities, The Kaye offers 200 more seats than its old home, Florence Gould Hall. The additional seating will allow more children and families to attend the Lolli-Pops, which are often fully subscribed. There will also be more seating for schools to attend The Little Orchestra Society's Chance for Children Friday dress rehearsal performances.

The fall series of Lolli-Pops begins with The Orchestra–A Happy Family on Saturday and Sunday, October 19th and 20th and continues on November 9th and 10th with Things That Go Bang and Peter and the Wolf on November 23rd and 24th. Saturday performances are at 10:20 am and 12 noon, with Sunday performances at 1 pm and 2 pm. For more information or to purchase tickets, call The Little Orchestra Society box office at 212-971-9500.#

Education Update, Inc., P.O. Box 20005, New York, NY 10001.
Tel: (212) 481-5519. Fax: (212) 481-3919.Email: ednews1@aol.com.
All material is copyrighted and may not be printed without express consent of the publisher. © 2002.
---