"Kindness Prevails" in Competitive Skateboarding
By Tom Kertes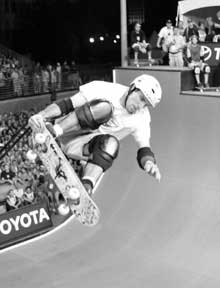 Baseball? Football? Basketball? Soccer? No (and no, and no, and no.) Not one of these enormously popular American and/or world sports could claim to be the number one participatory athletic activity for young people under 25 in the United States last year. Shockingly, the list was topped by skateboarding (and its close relative, in-line skating) with an indeed impressive number of 26 million.
Unfortunately, injuries serious enough to require professional medical care–are almost equally prevalent in the sport (more than a 100,000 a year). "It is very important to emphasize that these sports can be dangerous if the proper safety precautions are not taken," said Alan M. Muney, chief medical officer at Oxford Health Plans. "And also the fact that wearing the appropriate safety gear and using proper skating techniques can go a long way in preventing serious injuries."
In order to promote this concept, Oxford has created the Lid-Zone, a

grassroots program in the Tri-State area where kids 10-18 years of age can skate, compete with each other in "best trick" contests, see demonstrations by the best in the sport–and also hear the superstars talk about the essence of safety. "Hearing (8-time X-Games gold medallist) Andy McDonald, (visiting pro at the famed in-line training facility Camp Woodward) Matt Lindemuth, and other top-notch guys talk about safe skating gives our message the needed 'star appeal' to truly influence young people," Dr. Muney said.
Indeed, the quintet of Lid-Zone events, held over a two-week period in September, have been a rousing success. "We've had over 1,000 people at Rampage Park on Long Island yesterday," elated organizer Shea Sweeney said. "And another 1,000-plus today in New York City. That's more attention and enthusiasm that we ever could hope for."
Kids like 11-year-old Giorgio Villone attended on both days. "I don't know what I love about skateboarding," he pondered. "But it just makes me feel so-o-o-o-o good."
"It's an individual sport where you can be as creative as you want to be," mom, Maureen, chimed in. "It's a fantastic exercise to use your energies on–and it's also a great way for kids to make friends."
"You don't have to deal with the pettiness, violence, and all the other extracurricular stuff that team sports are unfortunately so filled with these days," Mrs.Villone added. "As a matter of fact, while kids of the same age are certainly competitive in this sport, I've been extremely impressed by how the older kids tend to take the younger ones under their wings as kind of mentors."
"It's really nice to watch. In this sport, kindness prevails."
And creativity, too. The participants at Riverside Park–the only outdoor court on the Lid-Zone Tour–doing all kinds of flips (ollies), somersaults, and a myriad of other tricks over the pipes, half-pipes, boxes, and various other metallic equipment, were somewhere north of spectacular. "I predict that this might become an Olympic sport one day soon," Mr. Villone said. "This sport, the skills it requires, is actually very similar to gymnastics. And if snowboarding is in the Winter Olympics, making skateboarding a Summer Olympic sport would be the logical next step."
As it appears right now, the U. S. has an excellent chance to host the 2012 Games. If it ever happens–and seeing the enthusiasm and athleticism of the competitors, it just might–that would be the time to look for skateboarding as a first-time Olympic event.#

Education Update, Inc., P.O. Box 20005, New York, NY 10001.
Tel: (212) 481-5519. Fax: (212) 481-3919.Email: ednews1@aol.com.
All material is copyrighted and may not be printed without express consent of the publisher. © 2002.
---