Round the Lake with Andres Garcia-Peña, Gondolier
By Tom Kertes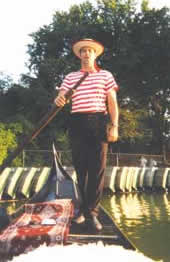 When you think of riding in a gondola, you think of one of the myriad canals dissecting the ancient Italian city of Venice. A large lake in New York City is about the last thing to come to mind.
Yet not only is there a gondola gliding majestically on Central Park's big lake, "it is there by design," gondolier Andres Garcia-Peña avers. "When Frederick Low Olmstead created Central Park in 1850–the only man-made park to remain totally true to nature–he desired to acquire a distinctly European flavor to this particular part of the park."
Italy became a nation-state in 1868, the same year the Park finally opened. Thus, near the Bethesda Fountain, the columns on the buildings are of a Roman style. Hence, gondolas.
Eight of them, originally.

This is only one of the many historic tidbits the personable Garcia-Peña– now the lone gondolier in the park–regales his clientele with. "I see myself as a communicator and entertainer," he says. "I tell them about the history of the park, of the surrounding buildings such as The Dakota, whatever they want to know about." Then he sings to the customers, preferably the same Italian love songs–"O, Solo Mio," "Nights in Sorrento"–that his Venetian counterparts do. All this while dressed in full gondolier regalia, with the big straw hat, the striped shirt, the whole thing. "To complete the experience," Garcia-Peña smiles, "I want it to be one of total fantasy."
In many ways, the personable 41-year-old Garcia-Peña lives a life of total fantasy. A successful artist educated at Greenwich Village's Cooper Union College–and now living in a 5000 square foot loft in Williamsburg, Brooklyn with his wife and three-month old daughter–he's had dozens of showings of his paintings in some of the finest New York galleries. His style is surrealist yet accessible, "something along the lines of Salvador Dali and Magritte," he says. He paints his life experience, including but not limited to his second existence as a gondolier. He sells five or so paintings a year–the highest price ever was $7,000–enough to feel elated about his art, but not necessarily to make a living.
ýhe gondola gig "is the greatest second job in the world," he says. "First of all, I love it. Beautiful park, beautiful lake, dealing with all kinds of nice peopleÐwhat's there not to love? Secondly, it's a six month-a year job, from 5-10 in the evening. The perfect part time gig. And third of all, it pays." A ride costs $30.00 for a half an hour, split evenly with his employer (The Boathouse Cafe). In addition, more often than not, Garcia-Peña receives a grand gratuity due to his charm, enthusiasm, and keen insight into the romantic aspects of the experience.
"That's the one thing I lie just a little about," he smiles. "When we get to the bridge, I tell young couples–many on a first date–that there is an old legend: if you kiss under this bridge you will kiss under a bridge in Venice. Ninety-nine percent of the time, it really starts something."
Gondoliering is not only fun work but an excellent workout as well, according to Garcia-Peña. The sculling with a single oar involves a row-cut-and-steer motion in the water that "makes a 20-30 pound difference in my body weight over the course of six months," he says.
Garcia-Peña, who was born in Milan, Italy to Colombian parents but has lived in New York since the age of 2, took over the gondolier gig from his retiring cousin. "In gondoliering, it's not what you know–it's who you know," he quips. He's had everyone from Bruce Willis to Spike Lee to George Clooney to Tony Bennett in his boat in the seven years he's been The Man on the Lake. "I can safely say they all enjoyed themselves immensely," he says. "This is a dream job where you have the power to make all kinds of dreams come true."#

Education Update, Inc., P.O. Box 20005, New York, NY 10001.
Tel: (212) 481-5519. Fax: (212) 481-3919.Email: ednews1@aol.com.
All material is copyrighted and may not be printed without express consent of the publisher. © 2002.
---