Inside the Superintendent's Office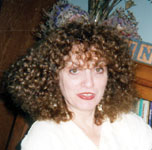 Inside District 2 with Shelley Harwayne
By Marylena Mantas
"Your children will not just learn how to read and write, they will choose to read and write. Now and forever," reads a quotation written on a poster hanging on the office door of Shelley Harwayne, Superintendent of District 2. When the door opens, a cozy, inviting space greets visitors who soon realize that this room looks more like third grade classroom than an administrative office. Light blue and maroon walls decorated with children's artwork create a warm atmosphere, complemented by ABC blocks and a lollipop stand sitting on a cabinet.
"I made it seem like home. I think I miss being a principal," says Harwayne, who served as the principal of Manhattan New School for eight years and was recently appointed as the Senior Superintendent for Manhattan by Chancellor Harold Levy.
Appointed in July of 2001, Harwayne has been leading a district that serves about 23,000 students, divided among the district's 40 elementary and middle schools and four high schools. A fifth high school, on the Eastside, is expected to open in September.
Citing the high school initiative as one of three elements that take priority on the district's agenda, Harwayne thinks that "the presence of secondary schools in our district changes everything because we have the unique opportunity to articulate with our colleagues what they want the kids to be able to do when they get to high school."
An emphasis on English Language Learners constitutes a second focus area, primarily because the district, which extends from Tribeca to the Upper East Side, has a diverse student body whose members speak about 105 languages.
"I want everyone to see second language learning as a strength, not a weakness. I want people to be jealous of people who speak more than one language. I want teachers to marvel at kids who walk through the door speaking another language," said Harwayne. "Then we also have a job to do for those kids, making sure they learn English. I want the public schools to do for those kids what it did for my mom and me. I am first generation American. I care very much about what we do with English Language Learners."
Providing great support for students who struggle academically has been the Superintendent's main priority for the more than 30 years that she been involved in public education.
"On the front burner for me, always, is the struggling child," she said. "You could come up with some wonderful programs but if it does not work for the struggling child it's not good enough."
District 2 has established a tradition of providing students in the public school system with quality education. According to the 1999-2000 Annual District Report, when Harwayne was the Acting Superintendent, District 2 ranked second among the City's 32 school districts in reading and math scores.
Harwayne attributes this success to the pedagogical philosophy driving the district's teachers and principals and to the emphasis on professional development.
"We think long and hard about how to help teachers maintain their air of scholarship," she said. "Helping new teachers and helping experienced teachers keep growing is what keeps us alive. Professional development is our job and the way through which we improve everything."
Almost everyone in District 2, "a very tight knit community," according to Harwayne, appears to be taking advantage of the structures set in place to encourage intellectual growth. Parents help in classrooms and school offices and organize PTA meetings. About 80 administrators, staff and teachers recently participated in a "The Picture Book You've Been Meaning to Write" workshop. Teachers meet regularly and are strongly encouraged to attend workshops and conferences; both new teachers and new principals have mentors. In addition, the principals meet with Harwayne monthly. The subject matter at the meetings is not administrative but rather pedagogical. "We take courses together, we read books together, we bring teachers in to talk about their practices, we observe classrooms together…the business issues are the small issues, the big issue is instruction," she said, adding that principals and teachers in District 2 recognize that learning never ends.
The Superintendent underscored that the district "wraps [new teachers] in support." Principals spend a great deal of time ensuring that new teachers have grade level support, attend workshops, and have the guidance of staff developers. "For me the question is how many safety nets can I put under brand new teachers so that they don't fail. That is how we hold them. We've been very privileged in District 2. We get a lot of people applying for jobs here."
Harwayne considers the notion of educators having "non-negotiables" a powerful concept. "Reading in the class," she says, must be a non-negotiable for every teacher.
"Part of what I want is for kids to imagine a life doing interesting things. So, classes should be filled with interesting conversations, messy projects, interesting people to interview, places to go in NYC," said Harwayne. She wants students to imagine that when they grow up some of these areas of interest will become lifetime pursuits. "That to me is very important."#
Education Update, Inc., P.O. Box 20005, New York, NY 10001. Tel: (212) 481-5519. Fax: (212) 481-3919. Email: ednews1@aol.com.
All material is copyrighted and may not be printed without express consent of the publisher. © 2001.
---