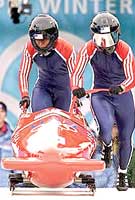 Vonetta Flowers: Bobsledder
After sliding down the murderous Olympic course at 80-miles an hour in a fragile bobsled – faster than any other woman in the universe – Vonetta Flowers was too hysterical to realize just how historic her feat had been. "We did
it, we did it, we did it!" she screamed
at her partner, Jill Bakken. "I can't believe we won!"
No one else could either. It was the first women's bobsled competition ever at the Olympics – but no U.S. man has as much as medaled in the bobsled in 46 years. Plus, pre-Olympics, Flowers and Bakken were only rated as the second-best U.S. team. Yet Flowers, a 28-year old track standout from Alabama who's only been in the sport for a year and change, became the first black athlete ever to win a gold medal in the customarily snow-white Winter Olympic Games.
"I am so blessed to be here," she said. "To win a gold medal for your country is simply awesome. Hopefully this will encourage other African American boys and girls to give winter sports a try. You don't see too many of them out there."
Flowers herself was only "out there" by pure coincidence. After finishing 12th in the long jump in the 2000 U.S Olympic Trials in Sacramento, her husband Johnny persuaded her to attend a nearby bobsled tryout as a lark. First she almost lost her lunch. "No one told me about the G-force," she laughed. But quickly, she proved herself faster and stronger than any other brake-woman in the world.
Still, she was the long-shot to end all long-shots. "The only thing I knew about the Winter Olympics was the movie "Cool Runnings", said Flowers. "You know, the one about the no-chance Jamaican bobsled team. And, of course, Debi Thomas was one of my heroes."
Thomas was the first black athlete to win
a medal at the Winter Games, a figure skating bronze in Calgary in 1988. Minority participation did not markedly increase after that.
"We hope to change that with a number of creative programs," U.S. Olympic spokesman Mike Moran said. Flowers, a personable champion with both charisma and modesty, will spearhead the historic effort."#
Education Update, Inc., P.O. Box 20005, New York, NY 10001. Tel: (212) 481-5519. Fax: (212) 481-3919. Email: ednews1@aol.com.
All material is copyrighted and may not be printed without express consent of the publisher. © 2001.
---