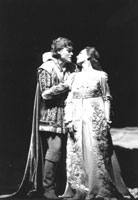 Is The Cultural Pendulum Swinging West To Chicago?
Visual delights at the Art Institute and heavenly singing at the Lyric Opera
By Irving Spitz
Art lovers have always held Van Gogh and Gauguin in fascination, and over the last two decades there have been numerous exhibitions devoted to these two masters. The Metropolitan mounted Van Gogh in Arles in 1984 and two years later Van Gogh in Saint-Remy and Auvers. There was the huge Van Gogh retrospective in Amsterdam in 1990, the centennial of his death. Gauguin had his turn in 1988 at The National Gallery in Washington and the Art Institute of Chicago. These shows were encyclopedic in scope and content. All were good, some were outstanding, but the current exhibit at The Arts Institute of Chicago, Van Gogh and Gauguin: The studio of the South has outdone them all. The curators of this landmark show took a different approach and analyzed the complex personal and artistic relationships between these two giants, who lived together in Arles for nine weeks in 1888. Indeed, this is the first show to explore this interesting theme. It was Van Gogh who conceived the idea of establishing a studio of the South and invited Gauguin to join him, although this proposal never came to fruition. Severe differences in temperament and working habits led to an inevitable split, which culminated in the well-known episode whereby Van Gogh cut off part of his ear. Gauguin left Christmas Day, 1888 and the two artists were never to meet again.
This show demonstrates the scholarship, intelligence and perseverance of its curators. It was reported to have taken over 11 years in preparation. Particularly interesting are the varied work techniques of the two artists. Gauguin painted slowly and meticulously. Van Gogh, in contrast, painted rapidly, even ferociously, immediately applying oil to canvas. These differences in style are dramatically evident in their series pained at the Alyscamps, a lane of old Roman tombs where they set up their easels side by side. The curators even recreated the studio where the two artists worked. All this is brilliantly chronicled by curators Douglas W Druick and Peter Kort Zegers in their 418-page catalog. Van Gogh was probably the most prolific artist of all time. His total creative art span was less than 10 years, but his output comprised over 1500 paintings and drawings. Of the two artists, Van Gogh had the most profound influence on future artists. Eleven years after Van Gogh's death, Gauguin painted a series of sunflowers in his tribute. This outstanding show is co-curated by the Van Gogh Museum in Amsterdam and will also travel to Amsterdam, its final stop. Lucky are those privileged to attend such a visual and intellectual extravaganza.
As every opera buff is aware, 2001 was the centenary of the death of Verdi. Not so many know that this was also the 200th anniversary of the birth of Vincenzo Bellini, the Sicilian composer who died at age 34 and composed nine operas. In honor of this, there were new productions of La Sonambulla in Vienna and Norma at The Metropolitan. The New York City Opera put on its first production of Capuleti e i Montecchi I (the Capulets and the Montagues) while the Chicago Lyric mounted a revival of their 1985 production of this opera. Without question, the Lyric production was the pick of the bunch.
Bellini's librettist was Felice Romani, one of the foremost Italian poets of the day. Romani adapted the Romeo and Juliet story for his opera; indeed, he had already done this previously for an opera on the same theme by the composer Nicola Vaccai, an older contemporary of Bellini. Romani's text has only a remote resemblance to Shakespeare's play. Romeo is sung by a mezzo and to carry this off convincingly, a mezzo of real stature is required. The Lyric was fortunate to have an artist available to deliver the goods, the Bulgarian Vessilina Kasarova. Her Juliet was Hungarian soprano Andrea Rost. Whether alone or in their passionate duets, these two consummate artists pulled off a real coup and complemented each other beautifully. Both sung with flawless musicianship. Kasarova has a wonderful low register that few other mezzos around can match, and she demonstrated an extraordinary control of dynamics. Post's silvery soprano was the stuff of dreams. There was a strong supporting cast with Italian tenor Fabio Santori as Tebaldo. Capellio, Giulietta's dominant father and Lorenzo the priest were competently sung by basses Jeffrey Wells and Umberto Chiummo. But this was a woman's night. Conductor Bruno Campanella, in his Lyric debut, managed to coax the beautiful bel canto lines from the orchestra. The sets, designed by Ulisse Santicchi, consisted of shining black marble walls, staircases and floors. I Capuleti e i Montecchi did honor to both Bellini and Chicago.
I only spent one day in Chicago, but the visit to the Art Institute followed by the performance at the Lyric Opera, left me with the impression that Chicago is a serious challenger to New York for US cultural supremacy.#
Education Update, Inc., P.O. Box 20005, New York, NY 10001. Tel: (212) 481-5519. Fax: (212) 481-3919. Email: ednews1@aol.com.
All material is copyrighted and may not be printed without express consent of the publisher. © 2001.
---