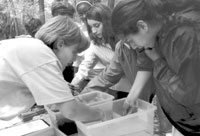 Collaboration Between BOE and CUNY Fosters Pockets of Excellence
By Marylena Mantas
In 1986 the New York City Board of Education (BOE) joined forces with the City University of New York (CUNY) to launch an innovative program seeking to encourage and prepare minority students to enter the medical
profession. The two partners established the Gateway Institute for Pre-College Education,
a program created to bridge educational gaps and to lead its students toward the path of academic success.
Today, drawing upon a 16-year-old tradition of excellence, Gateway provides students with the tools necessary to succeed not only in medical and science fields, but in any area they choose to study in college. The program, which has found the formula for success, fosters pockets of excellence in a public school system often labeled inefficient and problematic.
"Gateway is a program that levels the playing field for students who want to enhance their education," said Morton Slater, co-director of the program. "It is a vehicle for providing education, which allows students to decide what they want to do with their lives. We just faciliate the choices they like to make using their education."
Currently, over 2,000 public high school students from minority, low income and immigrant families participate in Gateway programs in seven public high schools—Brooklyn Tech, Erasmus Hall, Humanities, Jamaica, John F. Kennedy, Port Richmond and Adlai Stevenson. Their admittance to the program depends upon their academic performance in junior high school, attendance and recommendations. Prior to their first year in high school, students participate in a summer program designed to bring them up to the academic level that the program expects.
The academic life of a Gateway student differs from that of an average student in a NYC public high school. Gateway students have double periods of math and science; teachers who are specifically recruited to teach in Gateway; smaller classes, tutoring sessions; cultural enrichment activities; summer internships; and, enjoy the benefits of strong parental involvement. A team approach and sense of unity characterizes the program, according to Adrienne Rubin, the coordinator of Gateway at the Humanities HS.
"We become a family," she said.
The success of the programs can be measured in concrete numbers: more than 90 percent of Gateway's entering ninth graders graduate high school; 96 percent of the students pass the Regents biology, chemistry and physics exam; 97 percent attend four year colleges; 80 percent complete college in four to five years; 13 percent attend medical college—40 times the
normal rate for college graduates—and, their SAT scores are 200 points above the national average for minority students.
"Gateway nurtures, involves, and encourages kids," said Rubin. "It instills pride in their
abilities and we tell them that they could realize everything they aim for. I don't accept
half way."
Since 1990, approximately 2,100 Gateway students have graduated high school; most retain close ties with the coordinators and their high schools.
"In my 35 years as a teacher, the last 17 have been the best," said Margaret Dirkin, who
has been the Coordinator of Gateway at Jamaica High School since it was established. "To know what kids from the 90s are doing
is wonderful. It's been a great, enriching experience. They've touched my life and I hope that I have touched their life," said Dirkin, citing small class size and enrichment activities as, the elements that make the program work.
According to Slater plans are underway to develop programs similar to Gateway (funded by BOE, CUNY, NYS Step Program, and private foundation) in other cities, including Boston.
"Gateway is about opening options, rather than closing them," said Slater.
CUNY and BOE: "Joined at The Hip"
Gateway is only one example of the close collaboration between CUNY and the BOE. According to CUNY University Dean of Academic Affairs and Deputy to the Executive Vice Chancellor, John Mogulescu, the two institutions have greatly enhanced their collaboration in the past two years when the two chancellors—Matthew Goldstein and Harold Levy—realized that "in a sense they are joined at the hip."
College Now is only one of the programs that grew out of this collaboration, which Mogulescu characterized as the "largest collaborative initiative in the country."
"We decided that it was time to formalize the relationship with the Board," he said.
College Now, a program that provides high school students with an opportunity to improve their academic abilities prior to attending college operates in every CUNY college and provides students from more than 100 high schools with college-oriented enrichment activities.
More specifically, College Now offers eligible high school seniors the opportunity to take classes for college credit, which are taught by college faculty, or high school teachers with special training. Students who are not eligible to take these courses can enroll in various workshops and non-credit courses. The program also offers preparation for Regents exams and the SAT.
A second component of College Now, includes a pilot program that was recently
instituted in 19 high schools, involving approximately 100 students in each school, who receive among other things extra counseling and more individualized attention. According to Mogulescu, the program seeks to "make
a difference in how students adjust to
high school" and to "better prepare high school HS students for college."
In addition to College Now, the collaboration between CUNY and BOE has led to the establishment of special projects, such as Looking Both Ways, a development program designed to train high school teachers to better prepare students for the English Regents. Looking Both Ways, currently in its fourth year, has trained 300 teachers.
Summer transition programs, which bring eight graders to various CUNY campuses for a six week, intense preparation program, have also been established.
The collaboration has taken a more intimate form with the establishment of seven high school on CUNY campuses.
"They work closely with the colleges to have an enriched environment for the kids," said Mogulescu citing as the collaboration's long-term goal "to better prepare students when they come into CUNY." Other collaborative
programs include, Making Connections Program, College Advisement and NYC Writing & Math Projects. #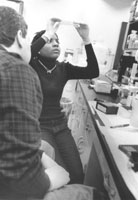 Education Update, Inc., P.O. Box 20005, New York, NY 10001. Tel: (212) 481-5519. Fax: (212) 481-3919. Email: ednews1@aol.com.
All material is copyrighted and may not be printed without express consent of the publisher. © 2001.
---