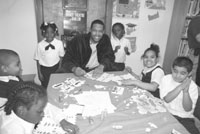 Marc-us it Down: Camby is the Principal of the Future
By Tom Kertes
Let's play Jeopardy. And, the answer is: "one."
The question? "How many professional basketball players want to become high school principals?"
When seven-foot tall New York Knicks center Marcus Camby expressed his towering desire for future employment in the field of education, the first reaction had to be "you can't be serious."
But, no. He is serious. And, he's not kidding.
"Not at all," said the customarily low-keyed Camby, while nodding for emphasis in the emptying post-game Knicks locker room. "I was in high school in Hartford, Connecticut, I was growing up without a dad in the house and in need of a role model. My principal, Mr. Frank DiLoretto, was always there for me. What impressed me about him was he was kind, knowledgeable, involved, and caring to the good kids—of which I was one, I think—and the not so good kids."
Camby added, "Mr. DiLoretto helped so many young people grow up the right way. I want to emulate that."
Only 27 years old and just entering the prime of his basketball career, Camby has already done that. While a superstar at the University of Massachusetts, he would regularly go to elementary schools in the area and tutor students in math and geometry.
Upon joining the Knicks three years ago, Camby adopted Harlem's PS 194 as his "home school." First he was Principal for a Day, now he's more like Visiting Principal for Life, dropping by every other month. He has donated books, book-bags and school supplies and he has organized an essay contest (providing all the prizes). Camby performed guard duty on the playground and even helped with the renovation of the school library.
"The NBA is like a dream," says Camby. "But, becoming a principal has been my second dream all along. This school here, well…this is reality. And, I like to be grounded and live in reality."
Camby even got the school's former and current principals–Sandra Small and Nina Powell–to become his mentor. "I need 15 credits to get my degree in education," said Camby, who left college during his junior year to join the NBA. "So, I'm taking those courses at UMass online during the basketball season."
And, Mr. DiLoretto? They named a school after him–the DiLoretto Magnet School for Communication and Technology in New Britain, CT–in recognition of his accomplishments in education. Today, Marcus Camby stands as not only the tallest, but also one of the most outstanding of those accomplishments. #
Education Update, Inc., P.O. Box 20005, New York, NY 10001. Tel: (212) 481-5519. Fax: (212) 481-3919. Email: ednews1@aol.com.
All material is copyrighted and may not be printed without express consent of the publisher. © 2001.
---