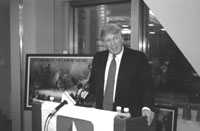 Manhattan Chamber Honors Trump, Kamali & Schools
The Manhattan Chamber of Commerce (MCC) recently honored two Manhattan public schools for their scholastic achievement during the Annual Business Awards Breakfast Event.
"I work with great people everyday—the children, parents and teachers of PS 51. We made success because we had great teachers from kindergarten on," said Barbara Gambino the Principal of PS/IS 51, which was honored for being the Manhattan elementary school to achieve the greatest percentage increase in test scores.
For the second consecutive year the MCC honored PS 59, where 93 percent of students perform at Levels 3 and 4 in English Language Achievement and 96 percent in math.
"There is hope when you work with children," said Leslie Zackman, the Principal of PS59, emphasizing that success has occurred as a result of a "district wide initiative to strive for perfection."
She added, "Leadership is critical, but if it doesn't have teacher, parents and the community it does not happen."
Over 150 people attended the event, which was hosted by Citibank and featured Donald Trump as the keynote speaker. Attendees included members of the MCC, educators and business leaders.
Designer Norma Kamali was presented with the Business Outreach Award for her involvement in the public school system.
"I love working with kids. You all need to think how important the future of public school kids is and what you can do," said Kamali. "The future depends on how well our children are prepared."
The MCC honored the NYC police and fire commissioners for their dedication to NYC after the tragic events of September 11th. Other awards presented included those for Business Growth, New Business (Ronald Johnson from Papa John's Pizza), Business Outreach, Small Business, Corporate, International Service and the MIDC International Business Award
Winners. Executive Director Nancy Ploeger and President Don Winter presided over the activities. #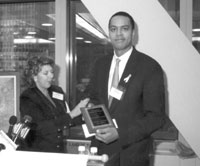 Education Update, Inc., P.O. Box 20005, New York, NY 10001. Tel: (212) 481-5519. Fax: (212) 481-3919. Email: ednews1@aol.com.
All material is copyrighted and may not be printed without express consent of the publisher. © 2001.
---