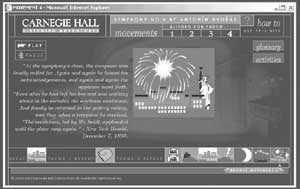 Listening Adventures for Children at Carnegie Hall
By Marylena Mantas
"The best way to experience Listening Adventures is to see it yourself," advises Lisa Hanford Halasz, Ph.D., director of education at Carnegie Hall.
To fully experience the musical and
pictorial concepts embedded in this web based, interactive, education program, which was launched recently by Carnegie Hall
and Thirteen/WNET to provide music
education to children of all ages, one has
to personally log on to www.listeningadventures.org.
"Teaching kids about classical music is an ambitious task," said Halasz, during a press conference announcing the site's official launching. "We as educators need to find ways to make it fun."
Listening Adventures provides a solution to this challenging task, as it introduces children of all ages to musical and non-musical concepts in a way that even adults can find fascinating and entertaining.
The site tells the story of Antonin Dvorak's trip to the US in the 1800s. The story, which
is told through the composer's Symphony
No. 9, From the New World, is accompanied
by pictorial images specifically designed
to visually depict the mood of a given melody. For example, as a user listens to the first movement, which musically highlights the composer's trip to the New World, visual images of
a ship sailing across the ocean appear on
the screen.
The images continuously appear as they accompany recurring melodies thus helping users understand and learn the
repetition of notes and themes.
"The pictorial way is a good way—kids
are having so much fun they don't even know that they are learning," said Halasz.
At the bottom of the screen, children view the notes to the melody. In addition, pop-up graphics indicate to the child what instruments are playing at any given time. Users have the option to click on an instrument and be instantly directed to a new window that provides information about the instrument's name and family.
Illustrating the site's attempt to introduce users to non-musical concepts, a paragraph appears next to the pictorial images explaining in words what is happening in the
music. Users are exposed to several elements simultaneously—the pictorial images, the instruments, a description of the music itself—all of which combine to make an extremely satisfying and effective musical experience.
Throughout the site, certain key words are conveniently underlined. If users do not know the meaning of a word they can click on it and be automatically directed to the site's glossary. At any time, users can pause, or return to a different movement, by clicking at the appropriate link at the bottom of their screen.
Making Listening Adventures even more exciting and educational, two activities accompany each movement, which provide a game-like approach to teaching children important musical concepts.
According to Halasz, Listening Adventures grew out of Listening Maps a paper-based version based on similar concepts. Carnegie Hall decided to expand Listening Maps by making use of the technological advantages and unlimited space provided by the Internet.
"Listening Adventures is a unique, cutting-edge product available to anyone with the click of a mouse," said Halasz. "It provides a fun experience that kids can return to time and time again to learn something new. That is education at its best."#
[I have taught children and adults of all ages for the past 30 years. Carnegie Hall has produced one of the best interactive music programs I have seen in years. Ed.]
Recognized as a national leader in music education, Carnegie Hall offers a wide range of educational concerts, workshops for teachers and musicians, education programs for students, and special symposia for NYC and tri-state area children, students, teachers, professional musicians and scholars. Carnegie Hall offers over 80 moderately priced or free concerts for children and families each season through its Family Concerts, Neighborhood Concerts, Global Encounters, High School Choral Festival, and its CarnegieKids and LinkUP! programs.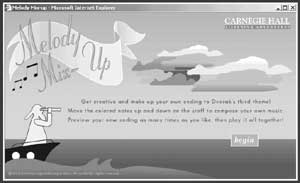 Education Update, Inc., P.O. Box 20005, New York, NY 10001. Tel: (212) 481-5519. Fax: (212) 481-3919. Email: ednews1@aol.com.
All material is copyrighted and may not be printed without express consent of the publisher. © 2001.
---