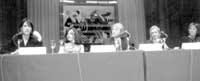 Novelists Explore Creative Process at Syracuse University
By Pola Rosen, Ed.D.
The elegant wood-paneled rooms of the Pierpont Morgan Library were a fitting venue for an exploration of the creative process by noted authors, graduates and professors of Syracuse University. Their most recent award-winning works encompassed the fields of children's literature, novels, poems and short stories. As John Kennedy said of a stellar gathering of contemporaries while he was in the White House, never since Jefferson dined alone was there such brilliance in one place.
Introduced by President Kenneth Shaw and Dean Cathryn Newton, noted children's author and illustrator Karen Winnick, said, "writing picture-books for young children implores me to look at the world with wonderment. I struggle to write with honesty in order to arrive at the truth of a story." Two of her books, Mr. Lincoln's Whiskers and Sybil's Night Ride, are historical fiction, prompting children to ask if she's ever met Abraham Lincoln. "Writing of another time and place, I must imagine the sights, the sounds, the feelings of being there," said Winnick.
A quintessential children's author, she encourages children to write, to express their feelings through words, art or music. She herself uses the "tools of prose, poetry, cadence, rhythm, repetition and sometimes rhyme" to create her 32 page mini-wonders. Each of her illustrations starts as an original oil painting before undergoing the transformation to a book. Underscoring the fact that writing for children is not simplistic, she quoted Mem Fox, an Australian children's author who compares writing a picture book to writing War and Peace in haiku. There is a great deal to say and only 32 pages.
Barbara Goldsmith, a founding editor of New York Magazine and author of nonfiction as well as fiction books, quipped "I have trouble collaborating even with myself" as she stressed that good writing appears effortless. A real writer, she said "is haunted by a plot that he must write. Somerset Maugham had three rules about writing a novel but unfortunately, no one knows what they are."
George Saunders, a novelist, stated "The course of literature is the stuff of your life." Writing for him is "extreme attentiveness to the present moment."
Elizabeth Strout and Mary Karr were two other award-winning panelists. When polled about how they write, some said they digest their thoughts and then write; some think about their books all the time; some don't think about writing until they actually sit down and do it.
Of interest were the favorite books cited by the novelists: Barbara Goldsmith: Middlemarch; Karen Winnick: Angle of Repose; Mary Karr: Letters of Chekhov; George Saunders: Chekhov's Short Stories; Elizabeth Strout: Journals of John Cheever.#
Education Update, Inc., P.O. Box 20005, New York, NY 10001. Tel: (212) 481-5519. Fax: (212) 481-3919. Email: ednews1@aol.com.
All material is copyrighted and may not be printed without express consent of the publisher. © 2001.
---