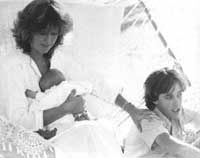 Kuki Gallmann: Living the African Dream
By Tom Kertes
Not too many people live a life that is fascinating enough to have an Academy-Award winning film based on it. But, Kuki Gallmann, a person clearly driven to gain a genuinely meaningful life, is one of those rare people.
"Kim Basinger, (who won the Best Actress Oscar for the role) was good with the script she had," says Gallmann, whose amazing story is told in the film I Dream of Africa. "But the script wasn't too good."
The film was based on Gallmann's autobiography, now translated into over 20 languages. "The film is a film," she says. "But the book was the real story."
And, what a story it was! Gallmann, who used to dream about Africa ever since she was a little girl and confesses to having read "every available book about it", first visited the continent as a teenager when she traveled to the Sahara Desert with her father. She visited Africa again in 1970 and after having fallen deeply in love with the land she moved to Kenya with her husband and son in 1972.
Two years later, the family bought Ol Ari Nyiro, a 100,000 acre cattle ranch in northern Kenya with the largest available wildlife of black rhino–as well as a plethora of elephant, buffalo, and leopard–in all of Africa. Around 1980, as Kenya encountered a serious poaching problem from the north (Somalia), the family hired a security force of over 30 rangers to secure the elephants and rhinos.
"This was the first private anti-poaching squad anywhere," says Gallmann. "The situation with the animals was truly tragic. It was also profoundly life-changing for me as it made me become very deeply involved in conservation of wildlife."
In March of 1980, Gallmann encountered great tragedy in her own life: her husband Paolo died in an auto accident while transporting a crib for his unborn daughter to his home. Then three years later her 17-year-old son, Emanuele, a passionate herpetologist, was killed on the eve of leaving for Stanford University while attempting to extract venom to prepare serum from a viper.
"They were both so deeply involved with the animals and the land," says Ms. Gallmann. "So, in their honor—in order to make their journey through life meaningful–I decided to dedicate my life and resources to saving the environment of Kenya and started the Gallmann Memorial Foundation."
Established in 1984, the Foundation carried the specific mandate of creating a ranch that would demonstrate the harmonious coexistence of man and the environment and of exploring new ways of combining development and conservation. Among other things, Gallmann created a Black Rhino Sanctuary and a Wildlife Preserve on the ranch.
Still, the number one pride of the Foundation has become the Laikipia Wilderness Centre for Environmental Education, due to its wide-reaching impact.
"After losing my son, I wanted other children–especially the children of Africa who cannot afford to go to National Parks–to experience the pride and marvel of learning about their own environment," says Gallmann. "And I also wanted them to learn about improving conservation and introduce them to the notion of environmental stewardship."
Gallmann explained that she wrote I Dream of Africa because she "wanted to tell the story as it happened. It may read like a novel but it's all real. And the pain was overcome with positive action–this is what people need."
"There is a common denominator among parents who have lost children," said Gallmann. "And, the way in which I spoke about it created a resonance in many hearts. I wanted to speak of the value of family, solidarity, friendship, and a life of simplicity closer to nature."
"And I wanted to speak about our responsibility to do something to protect the earth."#
Education Update, Inc., P.O. Box 20005, New York, NY 10001. Tel: (212) 481-5519. Fax: (212) 481-3919. Email: ednews1@aol.com.
All material is copyrighted and may not be printed without express consent of the publisher. © 2001.
---