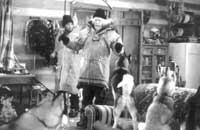 Antics: Snow Dogs & WayDownTown
By Jan Aaron
While saluting Black Heritage, letís praise many entertainers like Cuba Gooding Jr., who, as Ted Brooks, makes the whole family laugh in Brian Levantís Snow Dogs. Itís a pleasant outing for these times, avoiding violence, sexy scenes and unsavory language.
Goodingís Brooks is a successful dentist in Miami who discovers heís the main beneficiary of a will. But his dreams turn to mush when he finds his inheritance is a shack and a team of Siberian sled dogs in a tiny Alaskan town. The dogs greet the city slicker by ripping his red parka to shreds.
Ted has other problems. The townís bully, Thunder Jack (James Coburn), seems to hate him on sight and wants to buy his dogs at a ridiculously low price.
Ted wants to head back to Miami, but he falls for a local beauty, Barb (Joanna Bacalso), a warm hearted barmaid, who tutors him in local life. Also, Ted is here to find his real father. (His Miami mother never had the courage to tell him he was adopted). Imagine the surprise to this African American that his dad is CaucasianĖ the meanie, Thunder Jack. The two reconcile, of course. Thatís about as serious as it gets.
Most of the time Gooding smiles, falls and slips on the ice and flails his arms, pitching his performance to the youngest in the audience. In one memorable sequence, he insists on showing his prowess and rides his team of dogs
over a steep ledge onto an extremely thin sheet of ice.
For more sophisticated comedy, see Gary Burnís WayDownTown, a sleek Canadian prize-winner about a group of young office workers in an interconnected series of office and apartment buildings and food courts who have staked a monthís salary on a bet to see who can stay indoors longest. The movie covers lunch hour day 24 of the wager when everything is falling apart and everyone would pay a price for freedom.
(Snow Dogs, 95 minutes, Walt Disney Pictures, PG, mild crude humor; waydowntown, 87 minutes, released by Lot 47 Films, R; call 777-FILM.)
Education Update, Inc., P.O. Box 20005, New York, NY 10001. Tel: (212) 481-5519. Fax: (212) 481-3919. Email: ednews1@aol.com.
All material is copyrighted and may not be printed without express consent of the publisher. © 2001.
---