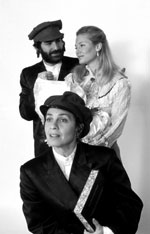 Yentl, A Heart-Warming Play for the Holidays
By Pola Rosen, Ed.D.
Even if you don't understand Yiddish, (headphones with simultaneous translation are provided for those who need them) Yentl transcends language, time and place. Its theme deals with the place of women in a society that views them as "married with children," the old "Kirchen, kuchen, und kinder" that allows no room for following a profession or being a scholar. Just as Edna in Kate Chopin's 1901 novel The Awakening, Yentl, cast in a religious community of the 1870's in Russia, needs intellectual stimulation and wants more than anything, to be a Talmudic scholar. Edna has to leave her husband and children to find personal fulfillment; Yentl has to "pass" as a young boy to enter the realm of scholarship. She weeps as she cuts her hair to look like a boy but is determined to proceed with her plans. The pathos and conflict in wanting to please her parents and yet pursue her dreams is rendered most poignantly by Eleanor Reissa.
A comedy of errors of sorts ensues when Yentl falls in love with one of her fellow students and is teased for not going swimming in the nude with all the male students. The subterfuge continues when one of the prettiest and wealthiest girls in town falls in love with "him" and a marriage takes place. The hugging, kissing and warmth between Yentl and her/his bride lead to the resurfacing of the triangle of Yentl, the wife and the Yeshiva student.
This play, written by Nobelist Isaac Bashevis Singer, and performed in Yiddish with perfect accents (this reviewer speaks Yiddish fluently), is just as timely today as when it was written
in 1962. For anyone interested in the passage of women in our society, Yiddish or not, this play is "the thing"—moving, evocative and riveting.#
For tickets: (212)307-4100; for lectures, children's theater (in English) and other events see www.folksbiene.org

Education Update, Inc., P.O. Box 20005, New York, NY 10001.
Tel: (212) 481-5519. Fax: (212) 481-3919.Email: ednews1@aol.com.
All material is copyrighted and may not be printed without express consent of the publisher. © 2002.
---