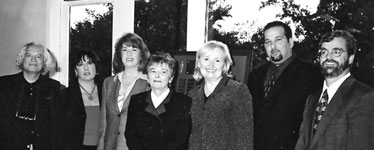 Dr. Christine Cea Inducted into College of Staten Island Hall of Fame
By Pola Rosen, Ed.D.
Recently, the College of Staten Island honored six distinguished alumni for their successful careers and outstanding service to the community. Christina Cea received her education as an adult "grateful to CSI for having programs that allow adults like myself [married and mother of two young children at the time] the opportunity to return to school and continue their growth." Dr. Cea has spent a major part of her life working on behalf of people with developmental disabilities. She is currently the associate director of the Developmental Disabilities Project at the Fordham University Center for Ethics Education. Her research deals with assessing and enhancing the ability of adults with intellectual disabilities to give informed consent with the goal of influencing public policy. Dr. Cea is the recipient of the Claire Thompson Award for outstanding achievement in the field of psychology. Other awardees were Marsha Darling, an associate professor of History, director of the African American and Ethnic Studies Program at Adelphi University and a Fulbright recipient; Virginia Friedman, a documentary producer and Emmy-winning writer for a film on race, Where Do We Go From Here?; Terry Golway, editor and author of books focusing on Irish American history; filmmaker Bahman Maghsoudlou and Joan Migliori, coordinator of the CUNY/ITALY Exchange and Study Abroad Programs. President Marlene Springer [see the profile on page 20] praised the graduates for their outstanding contributions, dedication and creativity.#

Education Update, Inc., P.O. Box 20005, New York, NY 10001.
Tel: (212) 481-5519. Fax: (212) 481-3919.Email: ednews1@aol.com.
All material is copyrighted and may not be printed without express consent of the publisher. © 2002.
---