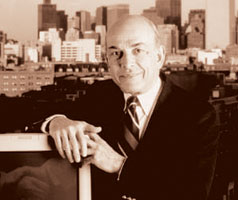 Dr. Aram Chobanian: Dean, Boston U. School of Medicine
By Joan Baum, Ph.D.
Every March, when Match Day rolls around, medical school graduates learn where they will be interning. At Boston University School of Medicine (BUSM), Match Day was, as always, something to glow about: approximately 85 -90 percent of BU med students got their first choice of hospital. Taking into account the medical richness of the Boston area, local area residents also have cause to be pleased, for the extended activities that take place under the direction of Dr. Aram V. Chobanian, the Dean of BUSM, show that this leading urban institution is dedicated not only to research and clinical practice but to outreach. BUSM takes the word "community" seriously.
The Dean, who attended Harvard Medical School and is an award-winning heart specialist with a specialty in hypertension, speaks modestly of a lifetime of achievement, especially of what he has done as Dean for 14 years. Affable, soft-spoken, and generous with his time, the Dean volunteers little about his own professional work which includes over 250 peer-reviewed articles on basic and clinical research in cardiovascular diseases, and on policies and procedures he has instituted, analyzed, and evaluated as chair of numerous, high-powered national councils and major scientific organizations. He prefers to talk about curricula and service at the medical school.
He is particularly proud of the merger five years ago of the University's Hospital with
Education Update, Inc., P.O. Box 20005, New York, NY 10001. Tel: (212) 481-5519. Fax: (212) 481-3919. Email: ednews1@aol.com.
All material is copyrighted and may not be printed without express consent of the publisher. © 2001.
---