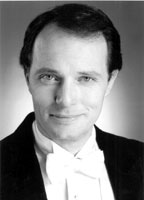 Kent Tritle: Musician with Heavenly Job Pulls Out All the Stops
By Joan Baum, Ph.D.
For Kent Tritle a "pipe dream" is hardly a "fantastic notion." Nothing could be more real and substantive to this
Education Update, Inc., P.O. Box 20005, New York, NY 10001. Tel: (212) 481-5519. Fax: (212) 481-3919. Email: ednews1@aol.com.
All material is copyrighted and may not be printed without express consent of the publisher. © 2001.
---