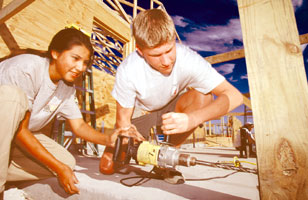 Student Volunteers at Habitat for Humanity
By Sybil Maimin
Brought to public attention by former president Jimmy Carter when he and other volunteers helped renovate a building in New York City in 1984, Habitat for Humanity International (HFHI) partners individuals of all backgrounds and ages with people in need of decent shelter. Together, they build or fix a house. Habitat is not a giveaway program. Its houses are sold to partner families at no profit, financed by affordable no-interest loans. The monthly mortgage payments are used to construct other homes. Founded in 1976, HFHI has built more than 100,000 houses in over 2,000 communities around the world. The movement is growing and is especially proud of its student programs, which currently involve chapters at 600 colleges and universities and 100 high schools.
Campus chapters are student-led and run. Young people work with local Habitat affiliates to build houses, educate peers about housing issues, and do fund-raising. Special opportunities for participation are available this summer. Collegiate Challenge will involve one week of work at over 194 sites around the United States. Foreign travel and working in other cultures for 1 to 3 weeks are features of the Global Village program. The eighteenth annual Jimmy Carter Work Project will take place in Africa this year where Habitat affiliates from that continent will partner with volunteers from around the globe to build 1,000 houses in eighteen countries. Former president Carter will participate at a site in Durban, South Africa where 100 houses will be constructed by over 2,000 volunteers during a five-day period. Student volunteers report that knowing they will be impacting the lives of the family they are working alongside of is an unexpected bonus. "Their home will not only be a beautiful building, but it will be extra special because of the emotions we all built into it."
Habitat for Humanity is currently extending its message to all school-aged youth. Child labor laws prohibit those under age 16 from working at construction sites but many other ways to help are available. The youngest could sing at house dedications or make greeting cards to be sold at fund-raisers. Older children could do gardening, make picture frames or window boxes from wooden scrapes from the site, learn about other countries and their housing needs, or stuff envelopes. High schoolers could start a Habitat chapter, baby-sit for volunteers, tutor partner family children, or write and publish articles about their experiences with HFHI.
Proud of the work of his organization and encouraged by its growth and vitality, Steve Messinetti, director of Campus Chapters and Youth Programs in Georgia, proclaims, "Habitat for Humanity is serious about getting young people all over the world and from all walks of life involved in putting an end to sub-standard housing."
Students are not paid for working at HFHI and must pay their own travel expenses. For more information, log on to www.habitat.org.
Education Update, Inc., P.O. Box 20005, New York, NY 10001. Tel: (212) 481-5519. Fax: (212) 481-3919. Email: ednews1@aol.com.
All material is copyrighted and may not be printed without express consent of the publisher. © 2001.
---