The Promise of a New School Year: New Teachers
By Marylena Mantas
New York City public schools are going through a period of vast migration. As senior teachers are retiring and others have left the profession, the Board of Education has launched a massive campaign to recruit nearly 8,000 teachers needed for the new school year. Teachers from overseas have literary migrated to the U.S. and into the NYC school system, while other individuals have "literally" from previous careers to the teaching profession. The recruitment process takes place at a time when New York City public schools face what has been characterized as the worst teacher shortage in history.
As of August 27, the Board Of Education had recruited approximately 7,180 coming close to its target number. Despite their diverse educational and professional backgrounds, all new teachers certainly have one thing in common: as the school open their doors to thousands of students this week, they will be the people standing in the front of the classroom bearing the responsibility of educating the students facing them.
Approximately 800 new teachers join the city schools from foreign countries, bringing with them specialized experience in a variety of subject areas and arguably, new, diverse perspectives. The Board of Education interviewed candidates from more than 10 countries and recruited overseas: 500 teachers from the Caribbean, 125 from Canada, 60 from Austria, 31 from Italy and 15 from Spain.
International teachers will share their assigned schools with approximately 1,200 Teaching Fellows. The fellowship, initiated by the New York City Schools Chancellor Harold Levy one year ago, seeks to draw young professionals and mid-careers changers with no previous experience in education to teach in New York City schools. Those interested in the fellowship submit an application to the Board of Education. Applicants must have a Bachelor's degree and a GPA of 3.0 or higher. Upon acceptance, fellows must pass two teacher certification exams, including the Liberal Arts and Sciences Test (LAST) and a Content Specialty Test (CST). Fellows are required to complete a 200-hour pre-service program prior to the school year, during which some shadow senior teachers in summer schools and eventually co-teach. In addition, fellows become matriculated in a college or university, located in the district that they will be teaching, where they take courses and work toward attaining their certification and a Master's degree in education, which they must complete in two years. Fellows receive a Provisional B License until they acquire enough education courses to get their certification.
Pam Jones, a Teaching Fellow enrolled in the Bankstreet College of Education, will teach at PS125. She is one of 25 fellows working with Banks Street this year, all of whom were assigned to four schools in District 5, in Harlem.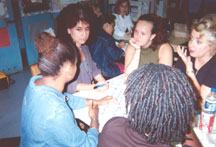 "I want to give students ownership of their learning. I want them to come out of the experience feeling as if they want to come back the next day," said this new teacher who has an MA in Public Policy and a BA in Politics, concentrating in Latin American and Afro-American studies.
Jones, who worked for Project Jump Start (see Education Update, V.5, July 2001) prior to become a Teaching Fellow, realized that she wanted to go into teaching upon completing a project for her previous job that required her to go into the classroom and observe the teacher-student interaction.
"It took this last experience for me to realize that I really had to be teacher," she said, explaining that several of her previous jobs included some type of educational component. Jones admitted to being slightly nervous about embarking on this new career. "I have the natural jitters," she said, but explained that her summer training has given her some preparation.
For Bank Sstreet Fellows, summer training included night courses focusing on child development, and classroom management. In addition, they spent their mornings in summer schools were they were assigned to a classroom to observe the teacher and eventually take over and teach a few lessons. Fellows were also encouraged to familiarize themselves with the local community.
"It [summer training] was wonderful. It provided me with a preview of what is to come. It provided me with a practical application," said Jones. She added that one of the things she learned from the summer training was the realization: "That I learn just as much from the students, as they learn from me. Students are teachers."
Noah Teitelbaum, a fellow who will teach fifth grade at CS133, who worked in the field of human rights prior to teaching, also learned something from the summer training program. "Policy papers and diplomatic meetings were hard, but they never made me quiver. This is the most challenging job," he said.
Principals in District 5 look forward to working with the Teaching Fellows.
"I know the reputation of Bank Street College and I wanted to have teachers in my school that I know are trained to do their job," said Pamela Craig, principal of CS 133.
Bankstreet fellows will have weekly meetings with Bankstreet staff, during the year to discuss any concerns facing in the classroom, in addition to their courses.
"I am confident that I can become a great teacher after some years," said Teitelbaum, a fellow who will teach fifth grade at CS133. "But, I am confident that now I can care about my students and dedicate myself. I don't have great aspirations of saving the world. I just want to teach a good class."
Similar aspirations are shared by Gerardo Joven, one of the 116 new teachers that will enter the school system as a corp member of Teach for America's class of 2001.
Joven, who graduated in December of 2000 from Kean University where he majored in history, will teach at PS 28 in District 6.
"I am going in with a positive mind set. I'm nervous, but also confident," said Joven, who has always known that he wanted to become teacher. As he said, he will bring to the classroom "new ideas, a lot of energy and the open-mindness to go to veteran teachers and seek assistance." Joven has matriculated in the MA in education program at Pace University.
Corps members have been admitted to one of three education programs—Pace University, Columbia University Teacher's College and Bankstreet—where, like the Teaching Fellows they will work toward attaining an MA in Education. Approximately three-quarters of these new teachers are recent college graduates, who have made a commitment to teach in the New York City school system for two years.
"We are looking for leaders who have a demonstrated record of achievement and leadership on their campus," said Cami Anderson, director of the Teach for America New York office.
The 2001 corps went through two phases of training. During the first session, which lasted five weeks, they were divided into groups of three or four people and placed into a summer school classroom where they observed a veteran teacher and eventually taught. In the afternoon, they took courses designed to help them develop a long-term plan, to identify their goals and expectations, work with the community and student's families, and learn how to achieve their goals. According to Anderson, the curriculum has been developed after reviewing the teaching techniques of those teachers that have produced the best results in their classroom. The second part of the training seeks to introduce the corps to their particular region they will be working in. Throughout the two years, the new teachers are assigned to an advisor from Teach for America, who supports them, while working closely with the district and the principal. In addition, the corps assigned to the same school meets in smaller groups once a month to reflect on their progress concerns. They also engage in policy panels and retreats throughout the year. According to Anderson, the new teachers establish a life-long relationship with Teach for America, regardless of whether they continue to teach after the required two years.
More than 50% of individuals that enroll in Teach for America continue to work in the field of education after the two years. Although not all of them continue to teach, they do remain in areas related to educational causes.
"They get in and are so challenged and inspired and learn so much," said Anderson, "they become even more committed and realize that they should stay in the field. They are part of a national movement."
Amy Christie, originally from Cleveland Ohio and a recent graduate of Smith College where she majored in sociology, will be teaching at PS153 in District 6. "I have a lot of enthusiasm and energy," she said. "I had some tough times this summer with the kids. You really have to find it in yourself to go back each day." She added, "It's the small battles that win the war."
Education Update, Inc., P.O. Box 20005, New York, NY 10001. Tel: (212) 481-5519. Fax: (212) 481-3919. Email: ednews1@aol.com.
All material is copyrighted and may not be printed without express consent of the publisher. © 2001.
---