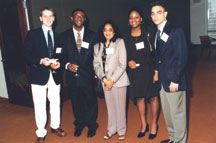 Four City College Undergraduates Receive Jeannette Watson Fellowships
By Marylena Mantas
Lincoln Ajoku, a junior enrolled in City College's honors program, spent his summer completing an internship at the International AIDS Vaccine Initiative (IAVI). An active participant of student organizations at City College, including the Undergraduate Student Council and the Student National Medical Association, Ajoku assisted in the establishment and revision of the organization's web pages, while receiving in-depth knowledge of the organization's goal.
"It was a stellar and enlightening experience," he said. "I learned the magnitude and impact of the people who are genuinely interested in finding a vaccine."
Ajoku, an economic's major, was one of 15 undergraduates from eight colleges around NYC that had the opportunity to intern at such prestigious organizations. He and three other City College undergraduates–Oghogho Edomwonyi, Orlando Gonzalez and Brandon Bolin–belong to the selected group of 15 that competed for and were awarded the prestigious 2001 Jeannette K. Watson Fellowships.
According to Alice Stone Ilchman, director of the Jeannette K. Watson Fellowship, the fellowship, now in its second year and a program of the Thomas J. Watson Foundation, was established to reflect and address the Foundation's belief that "talent is broadly distributed, but only selectively developed."
"The program focused on developing the real talent in the CUNY system," said Ilchman. "It reaches down and identifies people earlier. This is a developmental program. We affect them earlier in their undergraduate careers."
The fellowhip, which lasts for three consecutive summers, requires that fellows, all undergraduates in the liberal arts, participate in challenging internships and a variety of seminars. During the first two summers, fellows are encouraged to intern for organizations in two of three economic sectors, including government, nonprofit and/or business. During the third summer, they have the option of interning in Chicago or work internationally with Save the Children and/or the Peggy Guggenheim Collection in Italy.
This year, all four City College students selected as nominees to compete with those nominees from other colleges were awarded the Fellowship.
"They have a wonderful sense of team spirit and also a kind of sensitivity and openess to what they can give," said Marina Fernando, Director of City College's International Studies Program and the Watson Summer Fellowship campus representative at CCNY. "I think this was a wonderful opportunity for them. They get to intern in places they would never have access to. It's a real pleasure to work with material like that," she added.
Surely, the fellows are an exceptional group of students. Academic achievers, enrolled in City College's honors programs, the students appear passionate and concerned about their future and the world around them. According to Fernando, these were some of the qualities the committee interviewing the nominees was looking for.
The fellows were aware of the intensity characterizing the application process, which included the submission of essays and recommendations, a first round of interviews to select the nominees and a second round of interviews, by a specific committee compiled by the Foundation that included educators, artists and professionals, to select the final 15.
"It's hard work and fellows are aware of that. It's such a dynamic group," said Gonzalez, a junior majoring in English literature and an aspiring lawyer, who interned for Judge James Yates, with the New York State Supreme Court, where he did research and debriefs of cases.
"The internship was more educational then work," he said. "I learned that the educational process never stops. Education continues forever," he added, noting that the internship "showed [him] what [he] can do in the public sector."
Bolin, a City College Scholar, also interned with the Supreme Court where he worked with Judge Bonnie Wittner. He is a junior, who has not declared a major, and is enrolled in the school's honors program.
In the same program studies the fourth fellow, Oghogho Edomwonyi, a junior majoring in international relations. Edomwonyi spent her summer working at the United Nations Population Fund, where she researched, edited and wrote for the organizations publications.
"One of my goals was to network," said Edomwoyi. "I've always wanted to be in the UN system. It was very empowering," she said, noting that the internship provided her with new skills.
"I am a better communicator and a better developed person," she said.
In addition to City College, the Watson Fellowships were awarded to students from the the College of Staten Island, Hunter College, Lehman College, Long Island University, Brooklyn Campus, Marymount Manhattan College, Pace University, Manhattan Campus, and Queens College.
Fellows receive a financial award–$5,000 for the first summer, $6,000 for the second and $7,000 for the third–and a laptop computer. Upon completion of the internship, fellows are required to write three papers and submit them to the Foundation, along with the journals they keep throughout the summer reflecting upon their internship. Fellows also submit a final report, which has an oral and written component, evaluating their experience. In preparation for the second and third summer, students update their resume and interview with organizations for which they wish to intern.
Education Update, Inc., P.O. Box 20005, New York, NY 10001. Tel: (212) 481-5519. Fax: (212) 481-3919. Email: ednews1@aol.com.
All material is copyrighted and may not be printed without express consent of the publisher. © 2001.
---