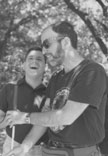 Navigating the World: Children Who Are Blind
By M.C. Cohen
The young boy who is blind was maneuvering his way around the carefully constructed Guild School hallway using a "kiddie" cane to help guide him. He was not alone. Along on the journey with the three-year-old was Orientation & Mobility (O & M) instructor Stu Filan.
"When they first start to move independently, without the aid of a person to guide them," says Filan, in his 28th year with The Jewish Guild for the Blind, "it's especially fearful and challenging."
Filan, a Brooklyn native, had not planned on spending almost his entire working life working with children who are blind. But, after watching Filan work, it only takes seconds to see that he doesn't doubt that his career choice is a winner.
"At the outset I was hooked," says Filan, who originally started out to be a general physical education teacher. "It takes a very sensitive, hard working person to motivate children who are visually impaired and multiply disabled to be independent travelers. That is the single most important thing we can do for them."
As it turned out, the best thing that could have happened to Filan was that in the early 1970s, thanks to the city's budgetary woes, there were no public school gym teaching jobs available. And, having just gotten his degree in physical education from Hunter College, he was ready to work. So, when his professor suggested that he use his skills to teach people who are blind to travel around Filan was eager to give it a try.
"It's the ultimate form of teaching," he says. "To teach students who are blind to explore their environment like other children is a real challenge. Most students learn how to deal with their world through visual experiences. My students need to learn how to use their sense of hearing and touch to make up for this loss."
Filan went on to get a masters in physical education from Hunter in addition to his training as an O & M teacher. This diverse background has enabled him to approach the discipline from a unique perspective.
"For me it's not just teaching kids to get around," says Filan. "It's much bigger than that. It's about the skills needed to get involved in life."
So, for Filan, who has been married for 16 years and has a passion for baseball and nature, his career has given his life balance and much pleasure. Not to mention, all of the children who now have the skills and self-confidence to find their place in the world.
If you have an interest in finding out more about becoming an Orientation & Mobility teacher you can email Stu Filan at Filans@JGB.org, or call him at The Jewish Guild for the Blind at (212)-769-6200 ext. 507.
Education Update, Inc., P.O. Box 20005, New York, NY 10001. Tel: (212) 481-5519. Fax: (212) 481-3919. Email: ednews1@aol.com.
All material is copyrighted and may not be printed without express consent of the publisher. © 2001.
---