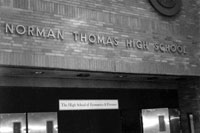 WTC Forces Schools To Close
By Marylena Mantas
Since the attack on the World Trade Center on September 11th Joanna Frank, the principal of Norman Thomas High School enters the school building around 6:00 a.m. She usually leaves 12 hours later. Her schedule, perhaps an atypical one, resembles the atypical conditions under which the entire school now functions. Norman Thomas High School has become the home of 700 new students, faculty and staff from the High School of Economics and Finance, one of six New York City public schools that have been temporarily relocated to other schools because of their proximity to ground zero.
To accommodate the new students, Norman Thomas High School now operates under a new schedule. The school's 2,160 students, its teachers and its staff report to Norman Thomas at 7:30 a.m. and leave at 12:30 p.m. From 1:00 p.m. to 6:00 p.m. the building serves as the new center for the High School of Economics and Finance. Under ordinary circumstances, the revised schedule and sharing of space might have been disheartening for Frank. Today, her staff and students have embraced the new students and staff and made them feel unconditionally welcome in their midst. Frank even ordered a new sign to grace the entrance of her school building bearing the name of Norman Thomas' new partner: "High School of Economics and Finance.
"We are a family and a community and these kids are our kids regardless of what school they go to," she said. "These kids are our children and they are our future and the future of our city." According to Frank, the new students will remain at Norman Thomas for "quite some time."
"It's very important for them to feel a part of the fabric of our school," she said. Toward that goal, Frank has integrated both groups of students into the college fair and a presentation on conflict-mediation. In addition, the two student governments plan to co-organize a Red, White & Blue Dance and will participate in the Twin Towers Penny Harvest program, a city wide school effort organized by the Common Cents of New York and the Board of Education to raise money for relief efforts. The students efforts epitomize Chancellor Levy's remarks that "students are troubled and want to do something concrete to help the city heal."
"I hope our faculties will also learn from each other," Frank added, lauding the "wonderful partner" she had found in Dr. Patrick Burke, the principal of the High School of Economics and Finance.
As of October 4th, the Board of Education (BOE) had not determined how long the High School of Economics and Finance will remain at Norman Thomas. An update on other schools around the city includes the High School for Leadership and Public Service, which has been reporting to Fashion Industries High School. No date has been set for return. The target date of return for Stuyvesant HS, which has been reporting to Brooklyn Tech, was set for October 9th. PS 150 will not return to its building in the near future due to conditions unrelated to the events of September 11th. PS 234 will report to St. Bernard's school on October 9th. Finally, PS/IS 89 will not return to its building for at least four weeks. The BOE is currently exploring potential alternatives to relocate the school. The BOE and the UFT have been conducting air quality testing, as have the schools' Parents Associations, who have hired consultants.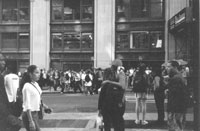 Education Update, Inc., P.O. Box 20005, New York, NY 10001. Tel: (212) 481-5519. Fax: (212) 481-3919. Email: ednews1@aol.com.
All material is copyrighted and may not be printed without express consent of the publisher. © 2001.
---