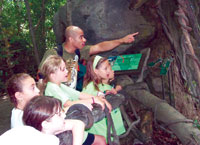 The New Zoo: An Educational Experience
By Tom Kertes
Today's zoo is not what your father's zoo used to be. In fact, over the past 20 years or so, zoos have gradually morphed from a place that simply displayed animals in cages, into an environment aiming to inspire visitors to think about what's happening in nature.
"The philosophy behind this is that, with more knowledge and greater inspiration, people will hopefully do a lot more for the preservation of animals and nature," said Annette Berkovits, Sr. Vice President of Education at the Wildlife Conservation Society.
The Society, which oversees all five major zoos in New York City, has not only created a plethora of progressively hands-on educational programs, but has even attempted to make the very act of visiting the zoo educational.
"We are now presenting each species in its own natural habitat in large breeding groups," said Berkovits. "This allows the visitors to learn about the animals' lives in a realistic manner. But, beyond that, we've also embarked on a specific national and international educational effort. We've had 2.2 million people going through our educational programs just in the last fiscal year."
The zoo's effort of making science more hands-on and enjoyable for students has been a much-needed development. Last year, when students of the 13 major industrial nations were tested, the U.S. came in last in the sciences.
"That's unacceptable," said Berkovits. "We aim to change that by bringing science to as many people as possible, and do it as a living, breathing experience instead of some kind of a fearsome, dry abstract."
The programs are three-pronged, but Berkovits sees the Teachers' Professional Development aspect as the most important.
The Bronx Zoo's nationally accredited curricula are available for teachers of grades K-12 in the form of 35-70 hour workshops. "Research data has clearly shown that participating teachers have dramatically increased their knowledge in the sciences — and that this has begun to transcend to their students," Berkovits said.
In addition, the Society has diverse programs for children at all levels. "Pablo Python Looks at Animals" has been identified by the U.S. Dept. of Education as an exemplary life science program for kids in grades K-3. The "Habitat Ecology Learning Program" covers the ecology of rain forests and deserts, by cohesively linking the study of science to social studies, geography, math, and language arts. For grades 7 and up, "Voyage From the Sun" is a classroom module designed to introduce students to the major ways energy is important to wildlife and natural habitats. And the Wild Science high school curriculum allows students to use the Internet for an intensive case study of the research done by each of the 300 field scientists the Society currently has active in 53 countries around the globe.
"We believe that by immersing children, as well as their parents and teachers, in real life situations and issues we enable them to gain a greater love for and interest in science," concluded Berkovits.
Education Update, Inc., P.O. Box 20005, New York, NY 10001. Tel: (212) 481-5519. Fax: (212) 481-3919. Email: ednews1@aol.com.
All material is copyrighted and may not be printed without express consent of the publisher. © 2001.
---