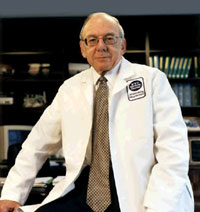 Dean Robert Glickman: NYU School of Medicine Continuing a Family Tradition
By Jacob M. Appel
"Medicine is under attack these days," says Dr. Robert Glickman, the Dean of the New York University School of Medicine. "Doctors are finding themselves in the middle of the debates about the U. S. health care system and they are no longer at the top of the economic ladder. Of course, the great advantage of medicine is its flexibility. There are so many things one can do with a medical degree–in the sciences, in public health, genomics, consulting, venture capital. And the science is wonderful with many new therapies and new drugs." The dean, an affable gastroenterologist who cuts a very polished figure, leans back in his chair and adds: "It can be extremely interesting and challenging work."
Glickman's own current position is unquestionably more interesting and more challenging that most. As the fourteenth director of a 160 year-old medical school with more than 1300 full-time faculty and nearly 700 medical students, he's running a school that trains the faculties for other medical schools. Almost 80 percent of his students engage in research while at NYU; half of all NYU graduates pursue careers in academics. Glickman admits that bringing innovation to such a celebrated and often unwieldy institution takes both determination and a willingness to proceed slowly.
"We've been working on improving teaching," he explains, "but in this environment we need to go about it in sequential steps. Most of our senior faculty do a wonderful job, but we can always do better. At the outset we defined teaching as the responsibility of a faculty member. That was new to some people. But we need to start off by raising the level of expectation." What next? "That's the more difficult part," Glickman says. "We know who the strong teachers are and who the weak teachers are. I assure you we get feedback." Then he leans forward and adds in his convincing let-me-tell-you-a-story voice: "My wife used to ask me to wash the dishes. One day I finally agreed and I washed them in cold water. She never asked me again." He shakes his head and notes that there will always be a few faculty members who teach the way he cleans dishes.
If Glickman is examining the quality of instruction, he is also rethinking the content of the material being taught. "We've always stressed the importance of a combination of knowledge of the basic sciences and compassionate care. What we're looking at now is taking courses away from individual departments. Students used to learn how kidneys worked one month and how hearts worked the next. Now we're trying to emphasize the importance of knowing how whole systems function." Other items are also on the agenda for a curriculum that relies heavily on medical student societies, student-run groups that function as part club, part social fraternity and part professional organization. For example, many students are electing to do work in the burgeoning field of bioethics. On another front, Pfizer recently offered the school a grant to implement a "humanities in medicine" program.
"Medical school shouldn't be a default choice," Glickman admonishes prospective applicants. "You should try to figure out if science and medicine is something that truly interests you." When Glickman was in high school, he won honorable mention in the Westinghouse scholarship competition for a project that involved radiating bacteria and making them change color; he urges today's young scientists to take similar risks. "Show a degree of commitment and passion," he exhorts. "Try to develop a deep interest in something."
Glickman is a graduate of the Harvard Medical School and an expert in the field of lipoproteins and fat absorption. He cites among his influences endocrinologist Daniel Fetterman, William Castle who cured pernicious anemia, and the noted gastroenterologist Kurt Isselbacher. "They were all distinguished teachers," he recalled. "I was very lucky."
What lured Dean Glickman into the medical field in the first place? "My father was a physician. He was a general practitioner in Flatbush and in Williamsburg [Brooklyn]. I went to medical school based primarily on what I'd seen at my dad's office." Whatever he saw must either be genetic or contagious, because he quickly points out that he has two sons and two daughters-in-law who are also physicians. "It's a great career," he explains. "It's one of the few things you can do where you don't get pigeon-holed at the beginning."
Education Update, Inc., P.O. Box 20005, New York, NY 10001. Tel: (212) 481-5519. Fax: (212) 481-3919. Email: ednews1@aol.com.
All material is copyrighted and may not be printed without express consent of the publisher. © 2001.
---