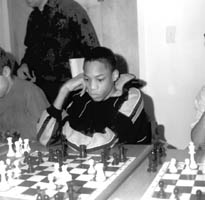 Chess Makes Children Blossom at Brooklynís League School
By Jason Gorbel
I had no idea how my students would react to chess when I suggested we start a team. I teach at a school for children with a classification of serious emotional disturbances who are too impaired to attend Board of Education schools. The League School serves 135 children diagnosed with autism, Aspergerís syndrome, attention deficit/hyperactive disorder, childhood psychoses and developmental disabilities so I was completely overwhelmed by the effect chess had on the youngsters.
I began the team in 1999 with three boys whose difficulties included maintaining focus and remaining on task, which, along with cognitive delays, translated into poor academic performance. I felt special needs children could benefit from chess, and the results, two years later, exceeded my expectations. The team now has 12 youngsters whose behavior, concentration, self-esteem and schoolwork has improved dramatically.
The boys loved getting individual chess instruction, and they began to feel that they were special, in a good way. I was thrilled that they wanted to learn, staying focused for extended periods of time, and devising strategy beyond the basic moves.
In June 2000 we entered our first competition against a team of comparable age and ability from a Queens school. I was proud that all my students remained focused and well behaved for two hours of play. After several competitions, our first victory came on May 14, 2001. Then at the All Brooklyn Scholastic Chess Championships, one student won a third place trophy and another took a fourth place medal.
As word of the prowess of the players spread throughout the school, the boys came to be held in high regard by the other students. For many youngsters at the League School, the world is basketball. Thanks to chess, academic achievement is now accorded status once reserved only for children who excel at athletics. Everyone at League School roots for the chess team.
The team continues to flourish, and the boys would like nothing better than instruction from a chess master to take their play to a higher level. They deserve nothing less.
The author is a teacher at the League School.
Education Update, Inc., P.O. Box 20005, New York, NY 10001. Tel: (212) 481-5519. Fax: (212) 481-3919. Email: ednews1@aol.com.
All material is copyrighted and may not be printed without express consent of the publisher. © 2001.
---