Bumps on the Road to Higher
Education: Riding in Cars with Boys

By Marie Holmes
Drew Barrymore heads a talented cast in Riding in Cars with Boys, based on the life story of Beverly Donofrio as told in her memoir of the same name, published in 1990. The film, directed by Penny Marshall, spans 20 years of Donofrio's life, recording her transformation from a boy-crazy teenager to a young mother struggling to hold onto dreams of going to college and becoming a writer.
When 15 year-old Beverly finds herself pregnant, she quickly realizes that the child's father, Ray (Steve Zahn), an unemployed high-school dropout, simply isn't the man that she was "supposed" to marry. But to appease her heartbroken parents (James Woods, Lorraine Bracco) and comply with the social mores of 1960s Wallingford, Connecticut, she and Ray wed and move into a small house together before their son Jason is born. Beverly then confronts a painful series of obstacles that thwart her hopes of attaining a higher education and creating a good life for herself and her son. The story is framed by scenes of Donofrio and the now college-age Jason driving together from New York City, allowing the audience a glimpse of Beverly's struggle through the eyes of the child whose mere existence threatened his mother's chances for success.
In what is, at its heart, the story of a young woman who refuses to let go of her dreams despite the odds, the film documents, in often excruciating detail, each blow that life deals her, not allowing the audience to experience the joy of the successes that we know Donofrio ultimately attained. After a humorous opening scene in which a school-age Beverly explains to her father that what she really wants for Christmas is not a bicycle but a bra, the film takes a turn to more serious topics and doesn't regain this lightheartedness. From the trauma of teenage romance to the repercussions of her husband's increasingly destructive behavior, Donofrio's tale plays out more like a tragedy than the comedy-drama that the trailer promises.
While the film presents a rather bleak view of Donofrio's life story, Barrymore and Brittany Murphy, who plays Fay, Donofrio's best friend, portray characters who present the complex reality of teenage motherhood, and Steve Zahn presents an all-too-familiar portrait of a young father who needs as much "parenting" as his own son, as he raises one barrier after another between Donofrio and her dreams.
Beverly Donofrio is, without a doubt, a fascinating and dynamic character, whose life experiences cannot be contained in a neat, 90-minute package, and Riding represents but one stretch of road on a much longer journey.
Riding in Cars with Boys has been rated PG-13 for thematic elements, drug and sexual content.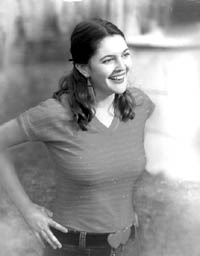 Education Update, Inc., P.O. Box 20005, New York, NY 10001. Tel: (212) 481-5519. Fax: (212) 481-3919. Email: ednews1@aol.com.
All material is copyrighted and may not be printed without express consent of the publisher. © 2001.
---