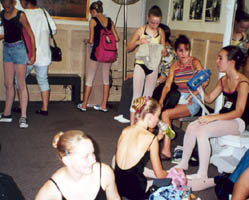 Degas Comes To Life At The Joffrey Ballet School
By Marylena Mantas
Some admirers of Degas' impressionist painting The Dance Class argue that the realism of the image allows viewers to sense that they have "walked into" the painting. Yet, a few miles south of the Metropolitan Museum of Art the experience of "walking into" The Dance Class transcends that of oil on canvas. Upon entering the waiting area of the Joffrey Ballet School the two dimensional image comes to life and visitors become able to hear the music, see the dancing and feel the competition.
"It's survival of the fittest," says Edith D'Addario, director of the Joffrey Ballet School, explaining that the school admits only very talented dancers with the potential the build successful dancing careers.
A number of acclaimed dancers have graduated from the Joffrey which, according to D'Addario, attracts students because "it has a history and a name and it gives a dancer the best training."
Eager to acquire even a small trace of this type of training, students come from all parts of the country to attend classes at the Joffrey. Among them, Christy Daigle, a native of Louisiana who spent eight weeks in New York City last summer enrolled in the eight week Professional Trainee Program. Christy, who has been dancing for 13 years, attended 17 classes a week and was among the selected few who were admitted to the program after auditioning at various cities around the country.
"She was very impressed with the instruction she has gotten," said Linda Daigle, Christy's mother who accompanied her daughter to New York. "She has had very positive comments and feels that she has learned."
The school was founded in 1952 by Robert Joffrey and Gerald Alpino. In 1988 Joffrey, a recipient of the Capezio Award, passed away and left the school to D'Addario and to artistic director, Gerald Alpino. Since then, D'Addario has sought to uphold the school's mission and reputation, looking for dancers with "a certain sensitivity, emotional training, and dedication."
Her advice to perspective students: "An audition should be treated like a performance:
practice and study every day." She adds, "This is for very talented dancers, who are very serious."
Education Update, Inc., P.O. Box 20005, New York, NY 10001. Tel: (212) 481-5519. Fax: (212) 481-3919. Email: ednews1@aol.com.
All material is copyrighted and may not be printed without express consent of the publisher. © 2001.
---