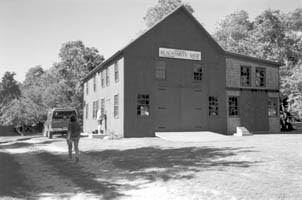 "If I Had A Hammer, I'd Hammer in the Mornin', I'd Hammer in the Evenin, All Over This Land"
By Joan Baum
And he does. For close to 20 years now J. Mitchell Yates has been smithing, a passion he's pursued not as income-trade but as freelance love. Though he makes his living as a carpenter, doing renovations, restorations and fine woodworking, blacksmith work engages Yates to the extent that he gives free public demonstrations and talks about this little-known craft in a restored blacksmith shop in Springs, East Hampton, NY. He also attends regional and national blacksmith meetings, where the latest information is exchanged and where an invited guest is likely to show off new techniques, some designed to enhance ironwork as sculpture or historical restoration. Yates himself is a member of the Northeast Blacksmiths Association and of ABANA, Artist-Blacksmith's Association of North America, a non-profit organization that started with 20 members 25 years ago and now boasts over 4,500.
Not surprisingly, considering the growing interest in the field, information about the lost art of hand-forged metalwork can now be found on the Net, and many colleges and universities regularly include smithing in their fine arts programs. The ABANA website provides a link to "educational programs", and its newly formed Education Committee is fast becoming a major resource for both written and audio/visual materials about working with iron and steel. Significantly, the site shows a woman hammering away. Yes indeed, says Yates, there are women blacksmiths. And opportunities for youngsters as well, such as the Ashoken Field Camp, connected to SUNY New Paltz, which is an outdoor awareness program offering classes in black and tin-smithing, broom-making, and other early crafts.
Though the affable 34-year-old Yates left high-school at 17, it is clear, thorough professional that he is, that he might have chosen blacksmithing as a career, had the opportunity been presented to him. He fell in love with historical metal work when he was still in school and obviously liked the wider associations as well– "buckskinning," which refers to camping out in a manner as close to the pre-Civil War period as possible, and "muzzle-loading rifle," both of which reached their apex in this country around 1845. These days blacksmithing attracts history buffs as well as those with mechanical dexterity." There will always be a demand for ornamental, historically accurate iron work," Yates says and it would seem a growing interest in crafts in general for people of all ages. A long-standing dream of his has been to offer smithing instruction at senior centers, particularly in areas where a blacksmithing presence has already been established.
Dispelling myths, Yates notes that blacksmiths can make a decent living, and then some, depending on where they set up shop and how creative they are, both as artisans and businesspeople. In the Hamptons, for example, premier horse country, a smith could build up a wealthy clientele and make a good income. (Mules and oxen, incidentally, also wear shoes.) In horse country, it is imperative that racehorses are properly shod (they wear different shoes, depending on surface and activity), and top-of-the-line blacksmiths could also open specialty stores, catering to patrons who not only own horses but can afford unusual jewelry, an increasing interest of women blacksmiths, who are a growing presence at nation-wide "hammer ins."
Those interested in blacksmithing will no doubt note the alternative term, "ferrier," dating back to usage in the Middle Ages.
And what of the dangers in pursuing blacksmithing as a career? Yates smiles. His only problems are carpal tunnel (which he's already had) and tennis elbow, the typical hazards of the trade. As for those blasting furnaces and odd-shaped anvils that absorb precision hammering — no worry. Blacksmiths are incredibly safety conscious, Yates says, an appreciation carefully cultivated in courses and apprenticeship programs where appropriate gear (eye and ear protection) and proper procedures dominate instruction. Clearly, blacksmithing today would – and should – appeal to young people who are good with their hands, as the old saying goes, but who also appreciate the need for good business sense. An educational blacksmithing program that includes marketing, American history, and good communication skills could ensure that a tradition-bound trade might well become a successful profession.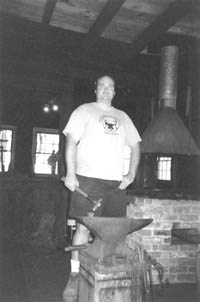 Education Update, Inc., P.O. Box 20005, New York, NY 10001. Tel: (212) 481-5519. Fax: (212) 481-3919. Email: ednews1@aol.com.
All material is copyrighted and may not be printed without express consent of the publisher. © 2001.
---