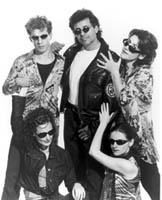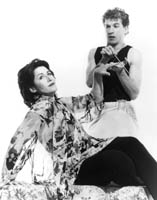 Bilingual Musical Spoofs Genesis: "Songs of Paradise"
By Jan Aaron
Who could imagine Abraham as a cool dude sunbathing in the Garden of Eden in a Hawaiian printed shirt? Or the scheming Laban as Groucho Marx? Look no further than the madcap creators of the sunny, funny Yiddish-English musical Songs of Paradise at Theater Four until December 23rd. This witty, satirical retelling of the Book of Genesis ushers in the 86th season of the Folksbiene Yiddish Theatre.
The show takes its cue from the Purimshpiel, audience friendly folk plays presented at Purim by traveling Yiddish troupes of Eastern Europe. It is a revival of the successful 1989 presentation, which ran for 150 performances at the Public Theatre. Songs of Paradise is again directed by Avi Hoffman whose past successes include Too Jewish and Too Jewish, Too.
The book by Miriam Hoffman and Rena Borow, music by Rosalie Gerut, choreography by Eleanor Reissa and musical direction by Zalmen Mlotek interpret the 100 year old lyrics by the popular Yiddish poet Itsik Manger.
As before, the production is 60 percent Yiddish, but this time, no simultaneous headsets into English provide help for the Yiddish challenged. (Headsets with simultaneous translations into Russian are provided). Not to worry. There is enough English and program explanation plus theater, comedy, music, and clowning to provide a good time for everyone.
Five versatile performers in fine voice playing multiple parts make the stage almost crackle with energy. Clever sets by Vicki R. Davis; costumes by Gail Cooper-Hecht and lighting by Jeff Nellis tickle the ribs. The two man ensemble, pianist Larry Goldberg and percussionist Rex Benincasa, rate hurrahs for their nimble handling of a score that incorporates jazz, rock, and gospel.
The able lampooning actors Spencer Chandler, Jake Ehrenreich, Lia Koch, Yelena-Shmulenson-Rickman, and Theresa Tova, take the audience merrily through six-well known stories of the Bible's first chapter as if they were modern folktales filled with pop culture icons. Meet Esau as Marlon Brando in The Wild One and hear the angels as the Three Stooges sing in dialect.
Summing it up: This Yiddish-English mishegoss is fabulous fun! (Theater Four, 424 West 55th Street, 212-639-2300; $35-40.)
Education Update, Inc., P.O. Box 20005, New York, NY 10001. Tel: (212) 481-5519. Fax: (212) 481-3919. Email: ednews1@aol.com.
All material is copyrighted and may not be printed without express consent of the publisher. © 2001.
---