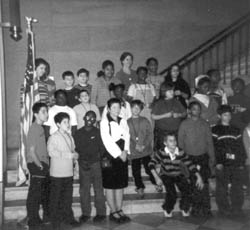 Sterling School Celebrates Three Years of Special Education
By Tom Kertes
Just three short years ago, the borough of Brooklyn did not have a single school specifically aimed at helping dyslexic children. Now there is the Sterling School which started with three students in 1999. Now 24 happy children populate the Pacific Street building.
Has the Sterling School been a resounding success? Brooklyn Borough President Howard Golden certainly thought so as he presented Founder Ruth Arberman with a special proclamation, declaring Monday, November 19th 2001 Sterling School Third Anniversary Day. "These are wonderful kids here who will grow up to do some fabulously important things," Golden smiled as the two dozen 2-6 graders were happily milling around him shouting things like "Mr. Golden, I want to be a doctor!" "I want to be a chef!"
"But I don't think they could have reached their full potential without Ms. Arberman and her staff," Golden said.
"I'm proud to say that we indeed have a unique place here," Ms. Arberman said after receiving her award. "While I was working as a Learning Disabilities Specialist for 25 years, I became increasingly aware that there was a need for helping dyslexic children.that was not being filled by the public schools who simply didn't have the funding or the staff. The private schools could not, as they were dealing with all kinds of different learning disabilities, mixing them into one pot."
"And the truth is, when you try to help kids with all kinds of different disabilities at the same time, you pretty much end up helping no one," added Arberman. "Dyslexia is a very specific condition, one that needs specialized, and intensely individualized, treatment by experienced professionals."
Sterling uses the research-based, and highly lauded, Orton-Gillingham methodology, designed specifically for dyslexic children. It has classes no larger than eight, with a staff-to-student ratio close to 2-1, as "individualized attention is a must," according to Ms. Arberman. "We individually design each student's program to follow a careful assessment of his or her processing strengths and weaknesses, specific language skill deficits, and learning styles." All instruction is multi-sensory and aimed to impact upon the students' dyslexia-induced self-esteem and confidence issues as well.
"As a rule, dyslexics tend to be extremely bright children," Arberman said. "So, due to their disability, school becomes that much more frustrating for them. Thus we go way beyond just teaching reading and learning skills. We want children to become lovers of learning by stimulating their imagination and have them experience a .large measure of success."
"Most important, we refuse to lower the level of teaching to the kids' level of reading," added Arberman. "Instead we use a multi- sensory approach in order to follow a rigorous curriculum that easily reaches, indeed surpasses, required mainstream standards."
Sterling costs $20.000 a year, but "half of it is reimbursable by the State if you seek 'Carter' funding," Arberman said. "But, beyond that, most parents tell us that they save so much money on therapists, psychiatrists etc. by having their child with us that, in the end, they actually end up financially ahead." #
Education Update, Inc., P.O. Box 20005, New York, NY 10001. Tel: (212) 481-5519. Fax: (212) 481-3919. Email: ednews1@aol.com.
All material is copyrighted and may not be printed without express consent of the publisher. © 2001.
---