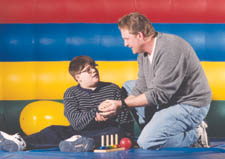 The Future of Special Education
By M.C. Cohen and Mike Salek
From a political or academic perspective, special education is a complex topic to be discusses and debated. For millions of students and their families it is a harsh daily reality filled with frustrations and difficulties.
"My daughter and I are involved in an endless routine of tests, meetings, and school placements; it's really a horror show," said a mother of a special education student. "She still doesn't have a school that she can call home."
It is now almost 30 years since PL 94-142, the landmark legislation of 1975 (The Education for All Handicapped Children Act) was enacted to prevent the exclusion of children with disabilities from schools and to ensure that they received a free, appropriate, and individualized education. Now, special education is changing. It is in the hands of politicians who are debating its future. Having undergone several revisions since 1975, at this time the Bush administration has appointed a 16 member commission to recommend changes to PL 101-476, the Individuals with Disabilities Education Act, better known as IDEA (the "great grand child" of PL 94-142). The committee is expected to detail their findings in the spring of 2002.
The President is urging congressional leaders to answer an ominous question: Why is 40 percent of the education budget spent on 11 percent of all students, those in special education?
"The IDEA has yet to fulfill its promise,"said Education Secretary Roderick R. Paige in a testimony before the House Education and Workforce Committee on Oct. 4. "The doors are open, but the system still denies too many students the opportunity to reach high academic standards."
The Challenges
Since 1975, the number of special education students nationally has increased from about 3.3 million students to its current swell of a little over six million–nearly an 82 percent increase. In New York City alone, 85,000 students out of 1.1 million are enrolled in special education–12.94 percent of its student body. The monetary figures are just as staggering. Students in special education cost on the average 2.3 times as much as general education students – an average of $13,000 per special education student versus $6,200 for all others.
More revealing than the money and the sheer number of students in special education is the over-representation of minority students placed in special education programs. According to Paige, 2.2 percent of black students are identified as being mentally retarded, a rate nearly three times that of whites. In addition, 1.3 percent of black students are labeled emotionally disturbed, almost twice the rate for whites.
A study conducted recently by New York University's Jay Gottleib, Ph.D and Mark Alter, Ph.D. of the Steinhardt School of Education revealed similar findings in Palm Beach County, Florida. The principal investigators showed that although black students represent about 30 percent of the total student population in Palm Beach County, they make up 62 percent of students classified as educable mentally handicapped, and 53 percent of students classified as emotionally handicapped.
The basic tenet of special education is meeting a student's individual needs. Each student in special education receives an Individual Education Plan (IEP), which details his/her strengths, needs, and educational goals for the year. Optimally, students are placed in the school in which they can receive the appropriate education.
"Special education has accomplished a lot by providing services and positive approaches, even though these students have been traditionally segregated from general education," said Dr. Beth Mount, a national consultant to education programs and adult services.
Typically, special education students have been taught separately from their general education peers to meet their needs. However, according to IDEA, special education students are guaranteed the right to be educated in the least restrictive environment (LRE). This means that according to their abilities and needs students should be placed in their neighborhood schools, along with their general education peers.
Often the concept of a least restrictive environment is falsely associated directly with the physical space of a classroom or school. Actually, Lou Brown, a special education scholar and pioneer, argued that "special education is a service, and not a place." Some scholars believe that ideally all kids should be in the process of working towards education in the most inclusive environment.
Inclusion: A Quick Fix?
Inclusion, an education model where special education students spend their entire day in a general education classroom, may be the quick fix sought by policy makers. To get the support services they need, these students receive assistance from a special education teacher in the regular class. This practice is an outgrowth from the Regular Education Initiative (REI -1986), and remains a hotly debated topic. Presently, the inclusion supporters have made headway, as inclusion is becoming a more common practice in education.
"There is an assumption that the least restrictive environment for an appropriate education is general education," said Professor Alter, New York University's Chair of the Department of Teaching and Learning. Experts in the field have speculated that if Bush's appointees are looking for more efficient use of money, they may see inclusion as a means of doing so. More money may be diverted to regular education once special education students are included. The idea is that all students would benefit. Special education students would get the support and services they need, while general education students get the benefit of an enriched environment. Yet, the question remains: It makes fiscal sense, but does it make educational sense?
"The question is, how will students with a range of abilities do in a general education classroom?" said Alter. "What is the criteria for progress: IEP goals or standardized test score? There tends to be an absence of instructional accountability to make decisions regarding progress of individuals as well as groups".
Proponents of inclusion believe that students with disabilities will benefit from a non-segregated environment, and at the same time students without disabilities will learn to share a learning environment with a diverse group of peers.
Yet, implementing inclusion is complicated. For example, "in their efforts to properly implement inclusion, New Jersey has nearly eliminated special education labels," said Dr. Jerry G. Petroff, Program Specialist for the New Jersey State Education Department. "However, in order to receive federal funding for students the state must categorize students as eligible or non-eligible for special education services."
States fund the bulk of monies allocated to special education programs, even though the federal government promised to provide 40 percent of this funding in 1975 when the law was first enacted. Complicating matters even more, IDEA guarantees that special education students have access to the general education curriculum and education classes. But, this is not always happening.
"Visit your local school," said Dr. Carole Gothelf, principal of the Guild School "and than see how many children who require special services are in general education classrooms."
The one thing that is clear is that Bush's task force has their work cut out for them.
"General education is based on a homogeneous model, while special education is driven by individual students needs," said Alter.
So, as the President's task force begins to consider how to build a better educational system it is clear that bridging together the two educational systems is anything but simple.
" For inclusion to work as it was intended to, the entire general education system must be revamped," said Petroff. "We need to accommodate all students and all of their needs, not just special education students. Each child deserves to be treated as a unique individual."
Mike Cohen and Michael Salek are teachers at The Jewish Guild for the Blind's Harriet and Robert Heilbrium School in New York City.
Education Update, Inc., P.O. Box 20005, New York, NY 10001. Tel: (212) 481-5519. Fax: (212) 481-3919. Email: ednews1@aol.com.
All material is copyrighted and may not be printed without express consent of the publisher. © 2001.
---