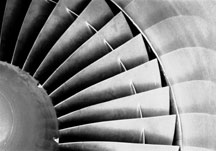 Learning to Fly In Queens
by Jacob M. Appel
Our obsession with flight has long been a dominant feature of the national psyche. Generations of schoolboys have longed to follow in the footsteps of Charles Lindbergh and Neil Armstrong. For these young men—and in recent years, young women—two long-standing Queens institutions can help keep their flying dreams alive: Aviation High School (AHS) and The College of Aeronautics.
"The sky's the limit," explains Eileen Taylor, principal of AHS. During her decade as principal, a position she insists is "the best job in the world," she has witnessed hundreds of high school students acquire FAA certification in the servicing and repair of powerplant equipment and airframe structures. She has also witnessed a small, predominantly campus-based curriculum expand into a program emphasizing internships, summer camps and even on-site training at a Kennedy Airport hangar. Many of the major airlines offer opportunities for ambitious AHS students to gain hands-on experience.
"There's a tremendous demand for mechanics," notes Taylor. "The airlines are so pleased with our students; they need well-trained professionals."
For the students, there is a magic that extends well beyond job security. Tenth grader Andres Rendon, recently returned from an Experimental Aircraft Association camp in Wisconsin, has "just one thing to say" about his experience: "It was awesome!" It takes little pushing to convince Rendon, an aspiring pilot, to describe his first-ever experience at the controls of an airborne plane. It wasn't at all frightening, he said, "not even the flips." Then he explained the detailed maneuvers undertaken by the RV-6A aircraft with the precision and complex technical jargon of a well-versed authority. The EAA camp is just one of numerous extra-curricular opportunities built into the AHS curriculum.
Two future mechanics, Radek Murawski and Stan Kapustyansky, both spoke of the satisfaction of building things with their hands. "I've always been fascinated by planes," said Kapustyanksy. "Working on planes also teaches you other skills like leadership and teamwork." Both seniors are considering a special five-year program that enables AHS students to acquire certification in both airframe and powerplant. And they are both strongly considering continuing their studies at college. Boasting some of the highest academic standards in the city—last year students scored over 96 percent on regents' exams in English, American history and global studies as well as 97 percent on FAA licensing exams—AHS sends its top students to some of the nation's leading research universities and military academies. Many other graduates use their advanced placement credits in mathematic and physics to get a head start at the nearby College of Aeronautics.
The demand for College of Aeronautics graduates is so strong that it even surprises Peter Grant Jordan, Vice-President for Enrollment and Student Services. "There are more aircraft in the air these days and more air traffic means a greater need for maintenance and repair. There has also been a lot of attrition in the industry due to retirements, so there's an enormous demand for trained mechanics and FAA-certified technicians," he explained.
The College offers a diverse selection of programs to meet the needs of an increasingly non-traditional student body. The school boasts a state-of-the-industry Fasca 142 flight simulator and a slew of donated aircraft. But its most distinguishing feature may be a control tower adjacent to LaGuardia Airport from which students, through a special arrangement, can listen to air traffic controllers at the airport directing traffic while watching the results of these directions. "The students really appreciate this," Jordan explained. "Hands-on experience is becoming more and more important in the job market. Our observation tower offers students a truly unique opportunity to be part of the life of the airport."
If dreams of flight know no cultural boundaries, the college seems to determined to make sure that their realization is equally available to all. The school is as racially and ethnically diverse at the city from which the students come. The percentage of female students is small, reflecting an industry-wide trend, but growing.
"Many of our students are from the first generation in their families to attend college," noted Jordan. "A large number are new immigrants. One of our primary goals is to show them that they can make it and to offer than an education that they can afford."
Taylor tells the story of one young woman, Maria, who desperately wanted to attend AHS despite scores that did not meet the admissions requirements. She came from the Bronx to Taylor's office every day for a week at the start of the school year, begging admission. The two finally made an arrangement whereby if Maria met certain standards at her local high school for sixth months, she would gain admission to AHS—which she ultimately did.
Taylor uses her story as a basic lesson on the rules of flight: it takes persistence and hard work.
Education Update, Inc., P.O. Box 20005, New York, NY 10001. Tel: (212) 481-5519. Fax: (212) 481-3919. Email: ednews1@aol.com.
All material is copyrighted and may not be printed without express consent of the publisher. © 2001.
---