GUEST EDITORIAL
EXCLUSIVELY PREPARED FOR EDUCATION UPDATE
Hunter College President Looks Ahead to the School's 150th Year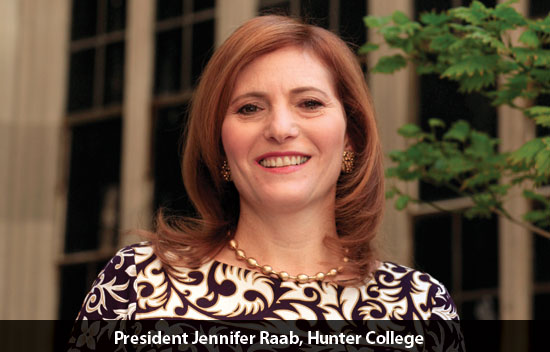 Even after 18 years as President of Hunter College, the start of a new school year is still very exciting for me. Returning students reconnect with classmates and faculty, while new students make their initial choices on classes and clubs. The halls are abuzz with promise and possibility!
New faculty join as well—26 new faces this year, perhaps our most diverse group ever. Nicholas Bloom brings expertise on subsidized housing, Ashley Jackson on orchestral harp, Collin Craig on African American rhetoric, Anita Raja on computer science, Lázaro Lima on poetry and documentary film… Each brings fresh ideas and perspectives.
From overseas, our students who have earned prestigious academic awards—like the Fulbright, Marshall, and Luce—are also getting underway. I just heard from three recent grads who have arrived in Beijing, each the recipient of a Schwarzman scholarship, a competitive national award that funds a year of graduate study in Beijing to promote a richer understanding of China's role in global trends. I know they'll do Hunter proud.
But this year is extra special because we are celebrating Hunter' 150th anniversary—the perfect time for reflection.
Fleeing his native country over his role in the Young Ireland movement and bringing his progressive ideas to New York City, Thomas Hunter founded Hunter College in 1870 with a fierce commitment to provide opportunity to women of all backgrounds, no matter their race, class, or education. Hunter was just the ninth college in the United States to admit women.
From that inclusiveness was forged a unique and lasting legacy that has shaped the experiences of countless thousands of Hunter students and faculty over the ensuing century and a half. In that time, we have made important changes, including the addition of new schools, departments, and programs—as well as male students, who were first welcomed in the '40s. But we have always stayed true to Thomas Hunter's essential values of equality, opportunity, and excellence.
The students who begin their college career this fall will each build on Hunter's important tradition in their own way. We'll welcome students from more than 60 countries and speaking more than 40 languages. Young adults and senior citizens, experienced workers embarking on a second career, parents, veterans, and athletes will all contribute to our incredibly rich learning environment—each with something unique to share. At Hunter, our differences are something to celebrate.
And that diversity translates to amazing and varied Hunter experiences. This summer, some students in our Grove Fellows program visited Nepal, where they discussed human trafficking and women's rights with a Nepali Supreme Court Judge; others traveled to Detroit to volunteer with several non-profits. Still other students applied their computer science classroom training to internships in local businesses, paving the way for future careers. And our faculty were busy, too, including our experts on Puerto Rico who witnessed the fast-changing political developments there and shared their expert perspectives with the media.
As summer quickly turns into the start of the fall semester, I look forward to continuing to support our students as they select and pursue their individual paths to promise and possibility. #